Weather Channel providing Apple more detailed data for iOS 8 Weather app than Yahoo did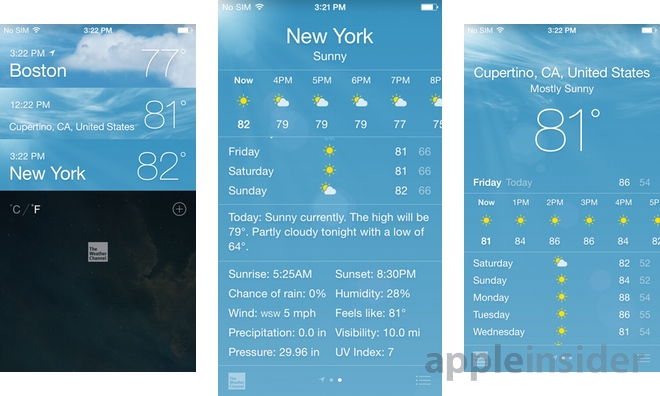 Starting with iOS 8, Apple will ditch Yahoo as its default data provider for the iPhone's built in Weather app, turning instead to The Weather Channel which earned the partnership by providing more detailed and advanced weather data for users.
The behind-the-scenes happening that led to the ouster of Yahoo and Apple's partnership with The Weather Channel were revealed on Friday by Re/code. The change coming with the launch of iOS 8 this fall ends a more than 7-year-long partnership between Apple and Yahoo for the iPhone's native Weather app.
The Weather Channel already provides data to Yahoo — who, in turn, supplied it to Apple's iPhone app. But in this instance, the company trumped Yahoo and took its place by going above and beyond, allowing Apple to cut out the "middle man."
"To convince Apple to make the shift and cut Yahoo out of the middle, the Weather Channel added a lot more technology and information to the offering that it does not provide to Yahoo," Kara Swisher reported. "That includes more weather specificity related to the location of a user, a nine-day forecast (up from five), a weather-conditions summary and more.
Currently, the weather data in iOS 7 and iOS 8 is slightly different. For example, as of Friday afternoon, the Yahoo-powered Weather app in iOS 7 said the current temperature in New York City was 79 degrees, while The Weather Channel's data in iOS 8 reported it as 82 degrees.
The forecasted highs and lows for upcoming days are also slightly different. And the new iOS 8 Weather app allows users to scroll down and view a forecast that extends all the way through Sunday, June 29.
Below the extended forecast, the iOS 8 Weather app also includes a text description of today's conditions, along with a readout of data including time of sunrise and sunset, chance of rain, humidity percentage, wind speed and direction, a "feels like" temperature, barometric pressure, UV index, and more.
With Yahoo's ouster from the Weather app, Swisher reported that some believe the online service company could also lose its position of providing data to the built-in iOS Stocks app.
Sources reportedly indicated that Yahoo's complacence helped contribute to the iOS 8 switch. In a quote from one Yahoo executive, the report compared it to the company "renting ocean-front property for years" before it realized "the lease was up."