Apple products return to Costco with deep discounts for iPhone and iPad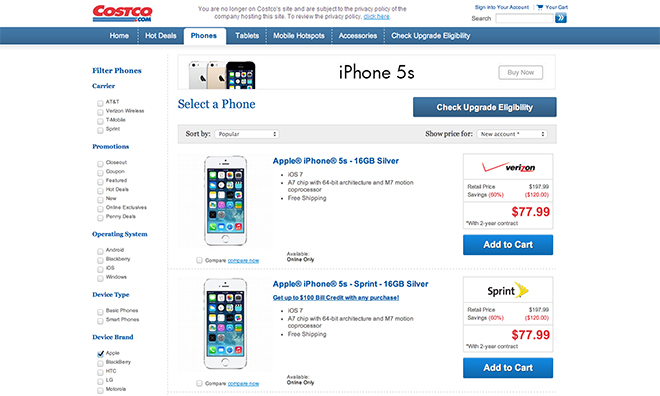 A year and a half after Costco stopped selling Apple products through its brick-and-mortar and online stores, the discount wholesaler is now carrying current iPhone and iPad models at discounts up to $120 off retail pricing.
The Costco Mobile online store, in partnership with third-party supplier Wireless Advocates, is now offering Apple's iPhone 5s and iPhone 5c, as well as the most recent iPad models, at discounted prices. The apparent change in policy was first spotted by TGAAP.
It is unknown what kind of deal Costco or Wireless Advocates managed to arrange with Apple, though current online specials show discounts of up to 60 percent on select hardware. For example, a 16GB iPhone 5s can be had for $78, down from a subsidized contract price of $199. Costco Wireless carries devices from big-four U.S. cellular providers Verizon, AT&T, T-Mobile and Sprint.
As for pricing, all iOS devices are limited to 16GB models, while T-Mobile versions must be purchased in-store and come with a $25 Costco Cash card in lieu of cash discounts. Interestingly, only one iPhone 5c model is available in a blue AT&T version going for $99 through Costco's web store.
Apple's iPad Air and iPad mini with Retina display are also for sale, though pickings are slim with offerings limited to Verizon and T-Mobile. Through Verizon, both tablets are priced $100 below retail, with a Silver iPad Air priced at $520 and a Space Grey Retina iPad mini going for $420 on contract. T-Mobile versions are 16GB Space Grey models and again only available at brick-and-mortar locations with a $25 Costco Cash card discount.
Costco stopped carrying Apple products in late 2010 when the companies reached a "mutual agreement" to cease their partnership. No official explanation was offered for the change, though at the time Costco was rumored to be behind the move after being passed over for iPad distribution.