Apple rolls out 'iTunes Pass' for Passbook in Japan, lets customers reload funds at any Apple Store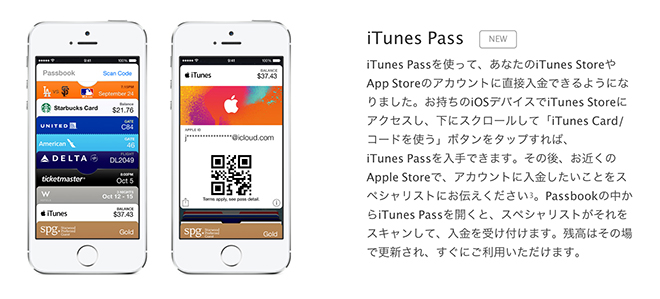 AppleInsider may earn an affiliate commission on purchases made through links on our site.
Apple on Tuesday unveiled iTunes Pass, a new Passbook-based service that allows customers to refill their iTunes account by purchasing credit in brick-and-mortar Apple Stores.
Apple's new iTunes Pass service is a reversal of how Passbook cards usually work. Instead of debiting out of their iTunes account, customers can replenish funds by taking an iPhone or iPod touch into an Apple Store and purchasing credit from a sales representative, who then scans in the amount through Passbook.
For now, the service appears to be limited to Japan, though a wider rollout is expected in the near future.
Use iTunes Pass to make direct deposits into your App Store or iTunes account. To get iTunes Pass, visit the iTunes Store on your iOS device, scroll down and tap on the "Use iTunes Card/Code" button. After that, a Specialist at an Apple Store near you will be able accept payment by scanning the iTunes Pass card in Passbook. Your balance will be updated on the spot and is available immediately.
Interestingly, the small print points out that "iTunes Pass is not available in Brazil, China and Turkey," suggesting Apple is planning to roll out the feature in other countries soon. Apple might be piloting the service — looking for bugs or complications — as the company usually first introduces new products and services to customers in the U.S. and Canada.
Apple introduced Passbook in iOS 6 as a way to store gift cards, boarding passes and other digital coupons. Customers are able to install cards linked to digital accounts from participating retailers and businesses like the Apple Store, Starbucks and United Airlines. Prior to iTunes Pass, users had to recharge their stored cards through Passbook or a third-party app.