Apple expands availability of two-step verification for Apple IDs to 59 countries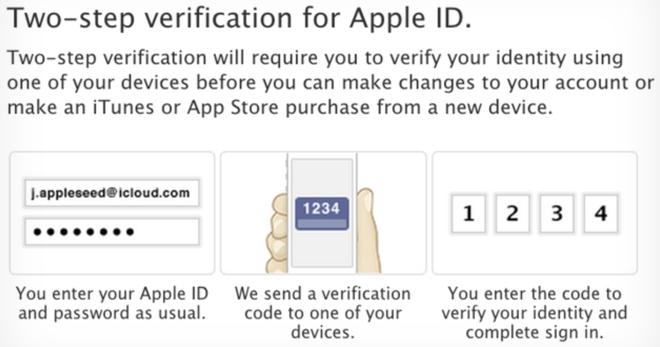 AppleInsider is supported by its audience and may earn commission as an Amazon Associate and affiliate partner on qualifying purchases. These affiliate partnerships do not influence our editorial content.
Just over a year after first enabling two-step verification for its pervasive Apple ID account system, Apple on Thursday revealed the feature's expansion to nearly 50 additional countries around the world in an updated technical support document.
The rollou t marks the second such expansion for two-step verification, which first appeared last March. Canada, France, Germany, Italy, Japan, and Spain were added to the list alongside the U.S., Australia, Ireland, New Zealand and the U.K. in February of this year.
Apple's two-step verification system makes use of the iOS push notification system and SMS to provide an additional layer of security for Apple IDs. Once enrolled, users are asked to provide a single-use, four-digit code alongside their traditional username and password login before being granted access.
The company has recently tested extension of the feature to iCloud.com, though it is unclear when that change will be pushed into production. Thursday's move is the second security update to come from Apple this week after the iPhone maker begin in-transit encryption of email messages from iCloud to popular providers including Google's Gmail on Wednesday.
The full list of supported countries is now as follows:
Argentina
Australia
Austria
Belgium
Bolivia
Brazil
Canada
Chile
China
Columbia
Costa Rica
Denmark
Dominican Republic
Ecuador
El Salvador
Finland
France
Germany
Greece
Guatemala
Honduras
Hong Kong
India
Indonesia
Ireland
Israel
Italy
Japan
Korea
Luxembourg
Macao
Malaysia
Mexico
Netherlands
New Zealand
Nicaragua
Norway
Panama
Paraguay
Peru
Philippines
Poland
Puerto Rico
Portugal
Russia
Singapore
South Africa
Spain
Suriname
Sweden
Switzerland
Taiwan
Thailand
Turkey
United Arab Emirates
United Kingdom
United States
Venezuela
Vietnam