Shazam launches Mac app with always-on listening mode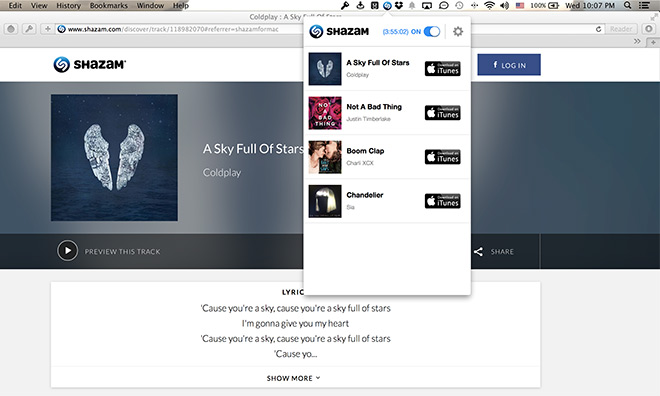 Popular music, TV and ad recognition app Shazam made its way to the Mac on Wednesday with a new app that operates in background to serve up instant matches, with one-click access to lyrics, music videos and iTunes purchasing.
Shazam version 1.0.1 breaks out the service's audio recognition software from mobile devices and puts it on the Mac, harnessing a desktop's microphones for always-on listening and near instant matching of songs, television shows, ads and more.
In practice, Shazam for Mac is basically a port of the iOS app, but supercharged for a desktop experience. Since Macs can run background tasks without having to worry about battery drain, Shazam is able to continuously monitor ambient noise for recognizable content, stream to their servers and return accurate matches in a matter of seconds.
For example, if a song is playing on a stereo, or over the speakers at a coffee shop, Shazam for Mac identifies the track and throws up a notification leading to online lyrics and purchasing options. Early testing showed near-instant recognition and notification, as fast or faster than the dedicated iOS app.
All recently recognized content can be accessed from a menu bar icon, which also serves as Shazam's main control hub. If available, cover art for songs, TV shows and other media show up alongside a "Download on iTunes" button that launches Apple's digital storefront for easy purchasing. Alternatively, clicking on the cover art or title opens a page on Shazam's website with lyrics, media previews, videos, buying choices, sharing options and more.
The drop-down pane also features a switch to toggle the always-listening function on or off, while a settings menu contains controls to turn on launch-at-startup, log in to social media accounts, download the mobile Shazam app and email customer support.