Apple seeds fifth beta versions of iOS 8, OS X Yosemite to developers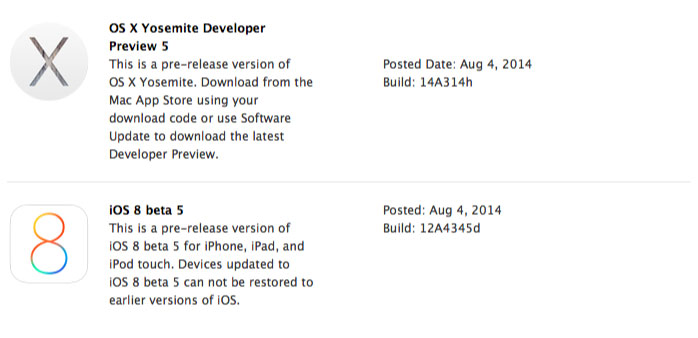 Apple on Monday made iOS 8 beta 5 and OS X Yosemite Developer Preview 5 available to registered developers, bringing bug fixes and stability improvements to the company's next-generation operating systems.
iOS 8 beta 5 — sporting build number 12A4345d — fixes problems with iOS's AVCapture framework and addresses issues with iCloud backups and CarPlay, among others. Also receiving fixes and changes are CloudKit, Document Providers, Extensions, FaceTime, Family Sharing, the file system, Find my Friends, Handoff, HealthKit, HomeKit, iAd, iCloud Drive, iCloud Keychain, iTunes Sync, Keyboards, Localization, Metal and OpenGL, Music, Springboard, and UIKit.
A number of problems remain, however, and Apple provide its now-customary warning that the software should only be installed on dedicated development devices. Shared purchase history pages are disabled for the new Family Sharing features, for instance, while encrypted backups to iTunes fail.
iOS 8 beta 5 is available via the Apple Developer Center or as a 269-megabyte over-the-air delta through Software Update.
OS X Yosemite Developer Preview 5, meanwhile, is not without its own issues. Users migrating from systems encrypted with older versions of FileVault could suffer a failed installation, for instance, and Gatekeeper signatures created in OS X 10.8.5 or earlier will no longer be recognized — developers must re-sign their applications.
Other areas of concern in Yosemite's fifth preview include Family Sharing, Handoff, iCoud Drive, iCloud, Aperture, iPhoto, Markup, and Safari.
OS X Yosemite Developer Preview 5 is available via the Mac App Store.
Also receiving updates on Monday were the beta versions of Xcode 6, Apple TV, and Apple Configurator.