Apple supplier Catcher Technology accused of labor violations in China plant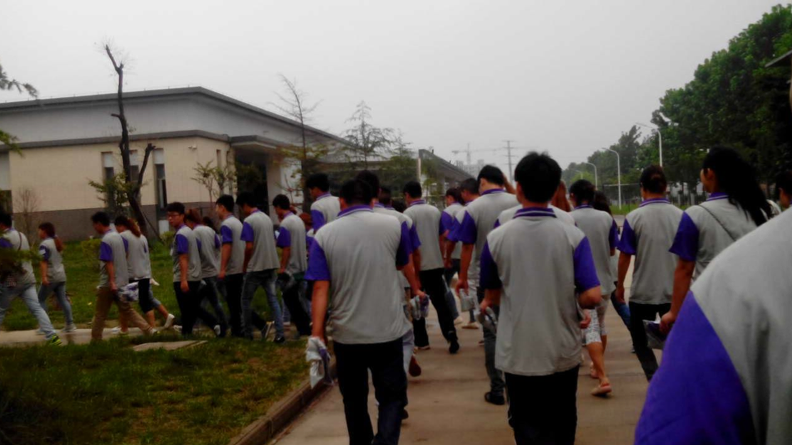 Workers at a Catcher-owned facility in Suqian, China are subjected to discriminatory hiring policies, forced to handle toxic materials without proper protective gear, and made to work excessive overtime to manufacture parts for Apple's next-generation iPad Air, according to a scathing undercover report released Thursday by China Labor Watch and Green America.
The laundry list of complaints — 22 in all — touches nearly every area of factory operations, from environmental and occupational safety to wages and living conditions. Thursday's report was first noted by the New York Times.
Catcher is accused of discriminating against potential hires by capping its recruiting age limit at 46 and refusing to hire people with tattoos — men are forced to remove their shirts to prove that they have no such body modifications. The firm also forces workers to lie on documentation saying that they have received safety training, even though no training, or inadequate training, was given.
Among the more serious violations are allegations that Catcher locks fire exits and windows, even in areas where flammable magnesium-alloy dust wafts through the air and employees openly smoke cigarettes. Similar practices were responsible for the death of more than 100 people in a Bangladesh garment factory fire in 2012.
"Apple has a long way to go to ensure workers are laboring under safe and fair conditions." — report
Catcher has also been charged with pouring industrial waste directly into local sewers and rivers, the same accusations leveled at Foxconn-owned factories near Shanghai last year.
The two labor rights groups say that Catcher, which also works for Apple rivals including Samsung, not only violated Apple's supplier code of conduct, but also ran afoul of Chinese labor laws and the Taiwan-based manufacturer's own internal policies. It is the second time in two years that egregious violations have been found at the Suqian plant, and several problems identified last year remain.
Speaking to the Times, an Apple spokesperson said that the company had "found some concrete areas for improvement in Catcher's operations" during its most recent audit in May, and "worked with Catcher to develop a corrective action plan."