Reminder: Gazelle's extended iPhone price lock ends today, lock in a 45-day cash offer before midnight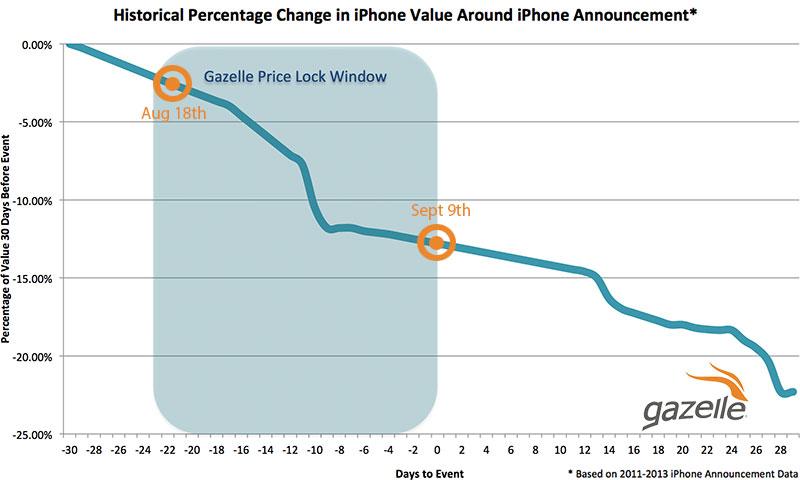 Readers looking to sell their old iPhone to help pay for a new iPhone 6 have until midnight to take advantage of Gazelle's extended price lock, which lets you lock in a cash offer for your old iPhones that's good for 45 days, meaning you won't be required to send it in for another month and a half. [Updated to note expiration of Gazelle's extended price lock promo]
Existing iPhone owners can lock in their top-tier price quote by visiting Gazelle.com today and then hold onto their device until November 14th, which should give most early iPhone 6 adopters ample time to take receipt of their new phone and transition their data.
Trade-in values typically drop 20 percent in the 60 days around the introduction of a new model, with much of that dip transpiring from 20 days before the unveiling to 20 days afterwards, as can be seen in graphic provided by Gazelle (above). Therefore consumers who plan to purchase an 'iPhone 6' and then sell their old iPhone should consider locking in a rate now, when buyback offers are still relatively high. There's no downside to locking in an offer now, given that you are not bound to send your device in if you later choose not to, and can always lock in a higher rate later with the same — or alternative service — if a better offer presents itself.
As can be seen in our Trade-In Price Guide (portion below) that tracks the prices buyback services are willing to pay for used Apple devices, Gazelle this week is offering up to $115 for an iPhone 4S, up to $180 for an iPhone 5, up to $170 for an iPhone 5c, and up to $285 for an iPhone 5s. It's also among the buyback services that have thus far proven to be the quickest, most reliable and hassle free for consumers over the past few years, which has helped make it the nation's leading consumer electronics trade-in service with more than 2 million trade-ins processed — and $175 million paid out — to date.
Step 1: To begin the process, identify your current iPhone from Gazelle's website (by selecting your model, carrier and capacity) and then quickly assess its condition — broken, good, or flawless.

(If you have an AT&T iPhone, Gazelle will also present the extra step of asking if you're submitting your phone locked or unlocked. An unlocked phone means more cash, and most AT&T customers will be eligible to unlock their old phone after upgrading to 'iPhone 6.' It's easy, here's how.)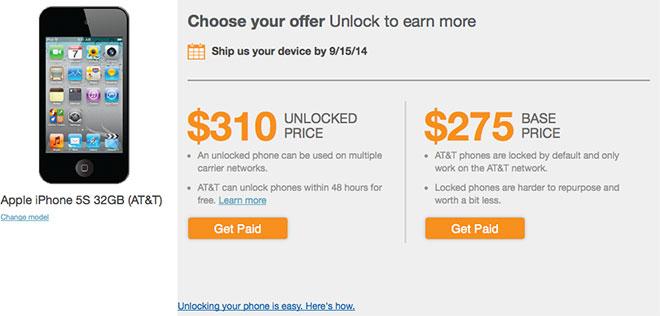 Step 2: If you don't already have a Gazelle account to log into, you'll be asked to quickly register by providing an email and password. You can then select you prefer to be paid: by PayPal, check, or in the form of an Amazon Gift Card. Alternatively, you can donate the proceeds from the sale of your iPhone to a charity of choice.

Gazelle will then ask for your address so that it can send you a pre-paid shipping box that you can use to submit your iPhone when you're ready. Alternatively, you can choose to have Gazelle email you a pre-paid shipping label and you can affix it to your own box.
Step 3: Within days, the pre-paid shipping box will show up on your doorstep. Sometime before Nov 14th, simply place your old device in the box and send it off to Gazelle. (You don't need to send in any chords or power plugs, just the device itself.)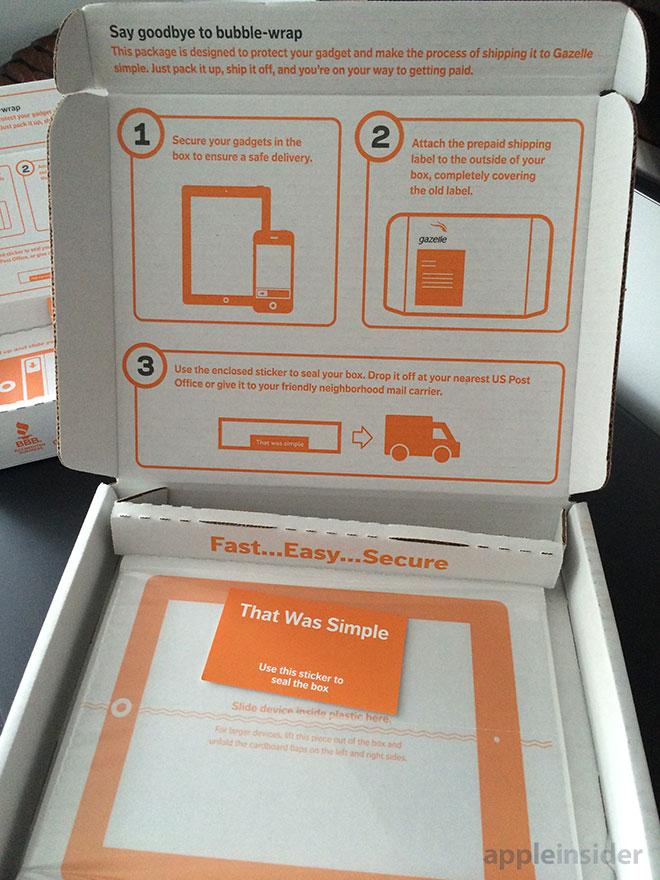 Once your device is received, Gazelle will completely wipe the personal data off your phone by returning it to its original factory settings. It will then pay you via Paypal, email (for an Amazon Gift Card), or issue a check for the cash value of the device you locked in today. The offer in recent years has become an increasingly popular way consumers to afford upgrading each year to Apple's latest handset by offsetting the cost of those new devices with the cash they make from selling their old iPhones during peak buyback season.
Like iPhones, Gazelle also pays out hundreds for your old iPads and MacBooks. Readers can compare Gazelle's buyback pricing with offers from other top-tier buyback services listed in AppleInsider's Trade-In Payout Guide.