Apple releases new OS X Yosemite betas for developers, public beta participants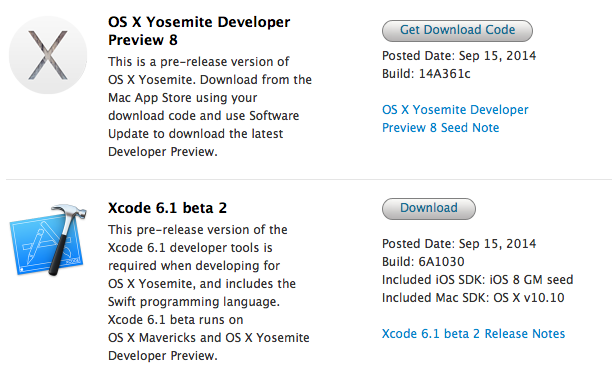 With the next version of Apple's flagship desktop operating system nearing release, new preview versions of OS X Yosemite were seeded to both registered Mac developers as well as participants of the public beta program.
Developers will receive Developer Preview 8, carrying build number 14A361c, while public beta testers can download Public Beta 3. Both are available as delta updates through the Mac App Store.
It is unclear whether the two pre-release versions are in lockstep when it comes to their respective codebases, but the new Developer Preview does continue to show some deficiencies.
As before, developers with automatic updates enabled will not be logged in automatically after reboot. Those with FileVault encryption enabled will find their computer shut down if login is not completed "shortly" after the restart.
Family Sharing pages on the Mac and iOS App Stores remain disabled, while Apple continues to remind developer that they will need to re-sign applications with new Gatekeeper signatures. In addition, problems persist with Handoff of untitled TextEdit documents.
Apple has also reaffirmed that SMS Continuity, which was removed from the Golden Master version of iOS 8, will not be available until October. The change is likely due to OS X Yosemite's arrival after its iOS counterpart.
Other areas with lingering issues include Extensions, iCloud Drive, Aperture, iPhoto, Safari, Developer Tools, and localization.
Also updated on Monday were Xcode 6.1, bearing build number 6A1030, and Apple Configurator 1.7 beta 6.