Apple customer service hit by massive traffic spike one day after iPhone 6 launch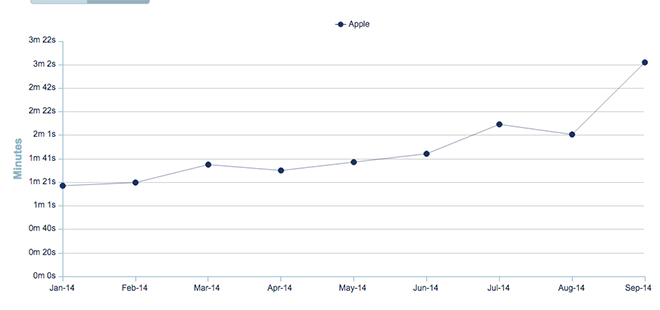 While Apple's customer service team was able to cope with expectedly high traffic on iPhone 6 launch day, the company was apparently overwhelmed by callers a day later, causing wait times to increase to over 20 minutes.
According to statistics provided to AppleInsider by customer service analytics firm StellaService, Apple's customer care team answered calls in 1 minute and 9 seconds on launch day last Friday, but that number fell to more than 20 minutes by Saturday. An exact figure is unknown, as the analytics firm cuts off time-to-agent metrics at 20 minutes per call.
What caused the spike remains unknown, though many consumers reported Apple Stores as being jam packed on launch day, with some complaining of fast stock-outs. Specifically, the iPhone 6 Plus appears to be in low supply.
iPhone 6 launch day service was considerably faster than the three-minute wait times experienced earlier in September, suggesting Apple bolstered phone lines with extra staff. Time to reach a representative by phone started at around 1 minute and 20 seconds in January, then slowly increased to two minutes in July and reached a peak of three minutes in September.
Last Friday's stats compare to Apple's iPhone 5s release in 2013, which saw response times hit nearly seven minutes, a six-minute jump from the norm at the time.
StellaService uses e-commerce analysts to engage with representatives working for online retailers, quantifying the speed and quality of order fulfillment, customer service and returns and refunds.
The long wait times jibe with Apple's announcement that a record ten million iPhone 6 and 6 Plus units were sold over the first three days of availability. The performance not only beats last year's iPhone 5s launch by one million units, but did so without the help of major smartphone market China.
Initial launch countries included Australia, Canada, France, Germany, Hong Kong, Japan, Puerto Rico, Singapore, the U.S. and the U.K. Apple will continue its worldwide rollout in 20 more countries this Friday, with an eye on getting the new iPhone models to 115 nations by the end of 2014.