Australian Apple Stores met with long lines as worldwide iPhone 6 and 6 Plus sales begin, Angela Ahrendts on hand [u]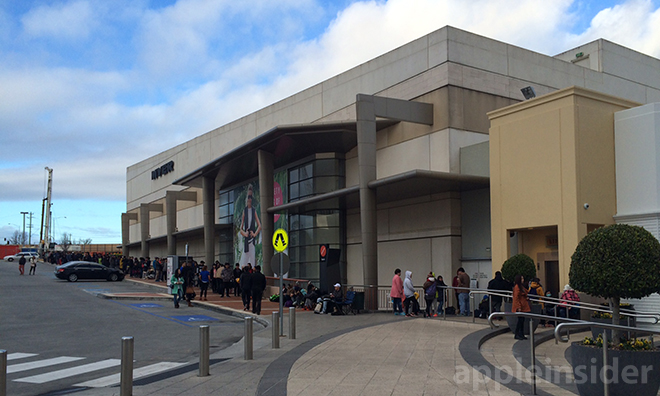 Australia kicked off worldwide sales of Apple's new iPhone on Friday local time, with brick-and-mortar Apple Stores seeing extremely long lines mirroring expectedly high demand for the next-gen handsets.
As seen in the photo above supplied by AppleInsider reader Luke, Australian Apple Stores saw masses of eager customers line up before doors opened at 8 a.m., about one hour ago as of this writing. In this case, at least 500 people queued up outside the Chadstone Shopping Centre in Victoria.
According to The Sydney Morning Herald, Apple Stores around the country saw similar scenes as lines filled with potential iPhone 6 buyers snaked around street corners and through shopping malls.
Australia is the first of nine launch countries to get access to Apple's latest products thanks to its proximity to the international dateline. Last year's iPhone 5s and 5c launch drew crowds, though initial reports claim demand is even higher for the iPhone 6 and iPhone 6 Plus.
North American sales are slated to begin on Friday morning at Apple Store locations, as well as partner wireless carrier stores, though stock is expected to be slim on launch day. AppleInsider checks with local provider outlets revealed many are not planning to carry the iPhone 6 Plus for walk-in customers, but Best Buy will have the phablet available as the retailer did not accept preorders for the device.
Update: Apple SVP of Retail Angela Ahrendts was on hand for the iPhone 6 launch at the flagship Sydney Apple Store.