Evercore raises Apple price target to $125, sees bigger iPhones leading to bigger sales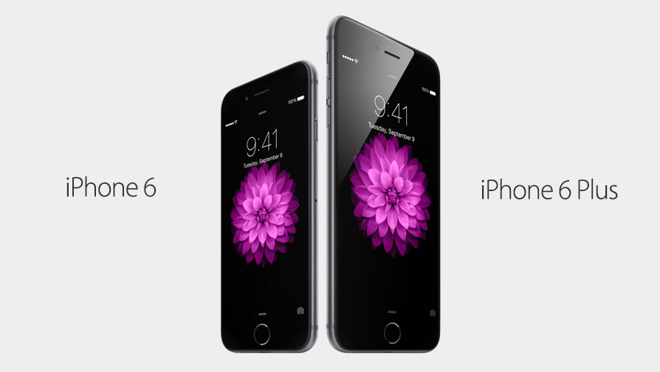 AppleInsider may earn an affiliate commission on purchases made through links on our site.
Bigger iPhone 6 screens are likely to result in a bigger upgrade cycle for Apple, in the eyes of Evercore Partners, which increased its price target to $125 on Tuesday and advised investors to buy in.
Analyst Rob Cihra reiterated his "overweight" rating for AAPL stock in his latest research note to investors, a copy of which was provided to AppleInsider. He also increased his estimated iPhone sales for the September quarter to 39 million units, which would be a 15 percent year over year increase.
Looking forward to the December quarter, Cihra sees Apple selling a massive 65 million iPhone units, which would be a 27 percent year over year increase and a new all-time record for the company.
But to Cihra, even more impressive than sales growth would be if Apple is able to maintain or even grow its average iPhone selling price. The analyst noted that the broader smartphone market is showing growth only at the lower end, and companies outside of Apple are largely stagnant in terms of high-end sales.
Many analysts expect that the average selling price of the iPhone will increase with Apple's new lineup. This year, the company is offering more capacity than ever, and is also charging a $100 premium for the 5.5-inch iPhone 6 Plus.
For Cihra, the 4.7- and 5.5-inch screen sizes in the new iPhone 6 lineup hit a "sweet spot" with consumers, which he believes will result in a "major upgrade cycle" for the more than 300 million worldwide iPhoen users.
Apple is scheduled to report its results for the fourth fiscal quarter of 2014 on Oct. 20. Cihra's overall estimates call for the company to report revenue of $40.1 billion, up 7 percent year over year, and earnings per share of $1.31, which would be a 11 percent increase from the September 2013 quarter.
Looking forward to fiscal 2015, Cihra sees Apple's revenue reaching $210 billion, which would be a 16 percent year over year increase. He's also forecast Apple to earn $7.53 per share.