Apple named world's most valuable brand for second straight year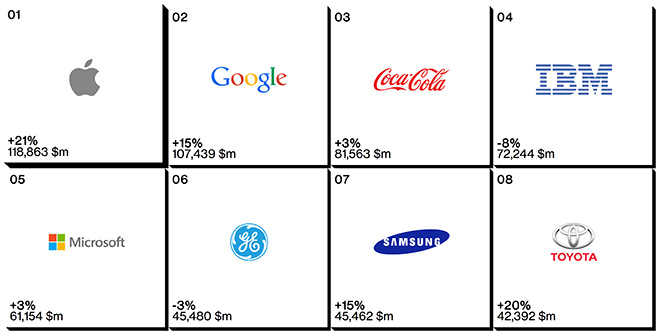 AppleInsider is supported by its audience and may earn commission as an Amazon Associate and affiliate partner on qualifying purchases. These affiliate partnerships do not influence our editorial content.
One year after taking the top spot away from Coca-Cola, Apple on Thursday was once again ranked as the world's best brand according to Interbrand's "Best Global Brands" report for 2014.
Interbrand, a brand consulting firm based out of New York, rated Apple's brand valuation at $118.9 billion, a 21 percent rise from 2013, reports The New York Times.
Interbrand cited a number of reasons for Apple's continued rise in brand value, including new products and services like Apple Watch and Apple Pay. The company's latest large-screened iPhone 6 and iPhone 6 Plus handsets were also mentioned for their role in boosting sales in burgeoning Asian markets.
Not only is Apple using devices to broaden its penetration, it's also credibly extending into new spaces. With the unveiling of Apple Watch-reportedly more capable than any other smartwatch on the market, not least of all in terms of advanced health monitoring-Apple's future will rely heavily on its ability to partner effectively with healthcare companies. CarPlay, giving drivers access to their iPhone's best features in the car, has brought the brand into the automotive space. HomeKit, providing seamless integration between accessories, promises to make our homes smarter. Apple Pay certainly has the potential to become the most powerful payment platform around.
Coming in behind Apple with a brand valuation of $107.4 billion was fellow tech giant Google, which unseated former No. 1 Coca-Cola. Google's estimate represents a 15 percent bump from last year and marks the first time two brands in the "Best Global Brands" report were valued at over $100 billion.
Rounding out the top five was Coca-Cola, IBM and Microsoft with respective valuations of $81.6 billion, $72.2 billion and $61.2 billion. Apple rival Samsung came in at No. 7, jumping one position from the 2013 report.
Technology companies are quickly growing in valuation, with four of the top-ten brands coming from the sector. The result would be higher, but Interbrand considers IBM a business brand. Overall, the technology category is the most valuable, ending up with a collective value of $493.2 billion. As for the fastest climber on Interbrand's list, Facebook took the crown with $14.3 billion, a jump of 86 percent from last year.