NFL fines 49ers quarterback $10,000 for wearing Beats headphones during press conference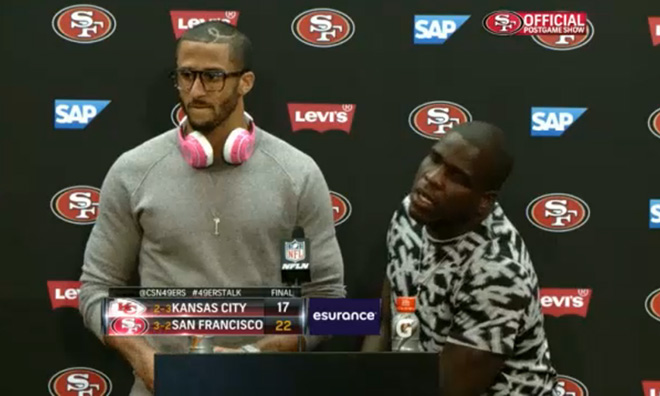 The National Football League fined San Francisco 49ers quarterback Colin Kaepernick $10,000 for wearing a pair Beats headphones, which bucks the league's rule against promoting unsponsored products.
As seen in the embedded video below, Kaepernick wore the pink Beats by Dre headphones during a press conference held shortly after the 49ers' recent win over the Kansas City Chiefs last Sunday. The star quarterback is sponsored by Apple's Beats unit and has been featured in various ads promoting its wares.
According to Comcast SportsNet Bay Area, players are restricted to wearing headsets made by NFL sponsor Bose when conducting interviews. The rule extends for 90 minutes following the end of a game.
Kaepernick responded on Thursday by posting to Instagram a screenshot of an article about the fine, along with the caption, "I support breast cancer awareness! My grandma is a survivor!....... *shrugs* some things are now important!" The pink headphones were apparently in honor of breast cancer awareness month.
It is unclear if Apple's Beats covered the fine and Kaepernick would not confirm either way. Beats has a number of pro athlete promoters on its roster, including NBA star LeBron James, tennis icon Serena Williams and Brazilian soccer phenom Neymar da Silva Santos, Jr, better known as Neymar Jr.
Today's development comes less than one week after the NFL confirmed to Re/code that players and coaches are not allowed to wear headphone products during interviews other than those made by Bose. Bose inked a deal to become the league's "official headphone" in March.