Newly leaked parts purportedly show next-generation iPad with Touch ID fingerprint sensor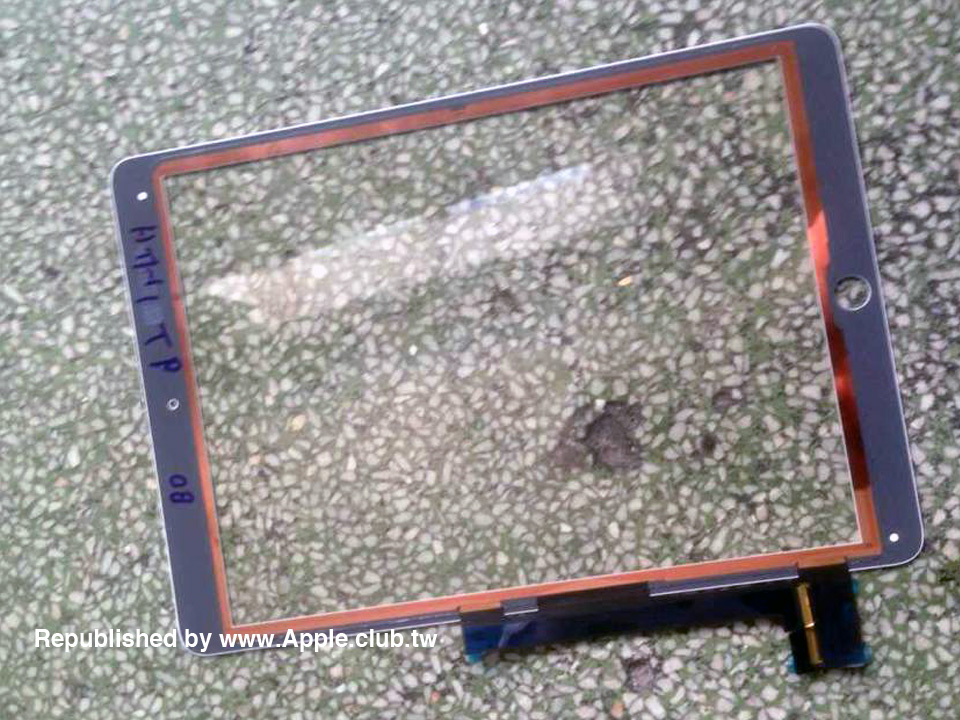 With only days to go before Apple's Oct. 16 event, new photos out of East Asia claim to show components bound for a next-generation iPad, including a logic board, Touch ID hardware and cover glass with incorporated digitizer.
Included among the supposedly leaked parts, posted to Taiwanese website Apple.club.tw on Saturday, is a Touch ID fingerprint reader sporting a gold capacitive ring, hinting at a new iPhone-inspired color option previously rumored in a report from last month.
The length of the flex cable attached to the scanning module suggests the part is bound for something larger than Apple's iPhone lineup, though it is not clear whether that device is a new iPad Air or next-generation iPad mini with Retina display. Many expect Apple to update both tablet sizes with Touch ID capabilities, bringing the products in line with current iPhone models.
Another photo shows what is claimed to be an iPad logic board complete with what looks like an "A8X" chip and micro-SIM card reader. The overall layout is consistent with the logic board found in Apple's current iPad.
Finally, a screen cover looks to be from a 9.7-inch device. Of note, a capacitive touchscreen layer backs the cover, which could mean Apple's next iPad will not feature a laminated screen.
Bonding a device's display structure with its cover glass minimizes reflections and offers deeper colors as evidenced by the iPhone lineup. Aside from iPhone, Apple has employed screen lamination techniques with the most recent iMacs, but the process is more difficult — and costly — when applied to touchscreen devices.
Apple is widely expected to launch new iPad models at a special event on Oct. 16. Also anticipated are announcements on the public release of OS X Yosemite and iOS 8.1, expected to feature Apple Pay. Recent rumors claim a refreshed 27-inch iMac with 5K Retina display will also debut.