Apple unveils new multi-carrier 'Apple SIM' bundled with new iPads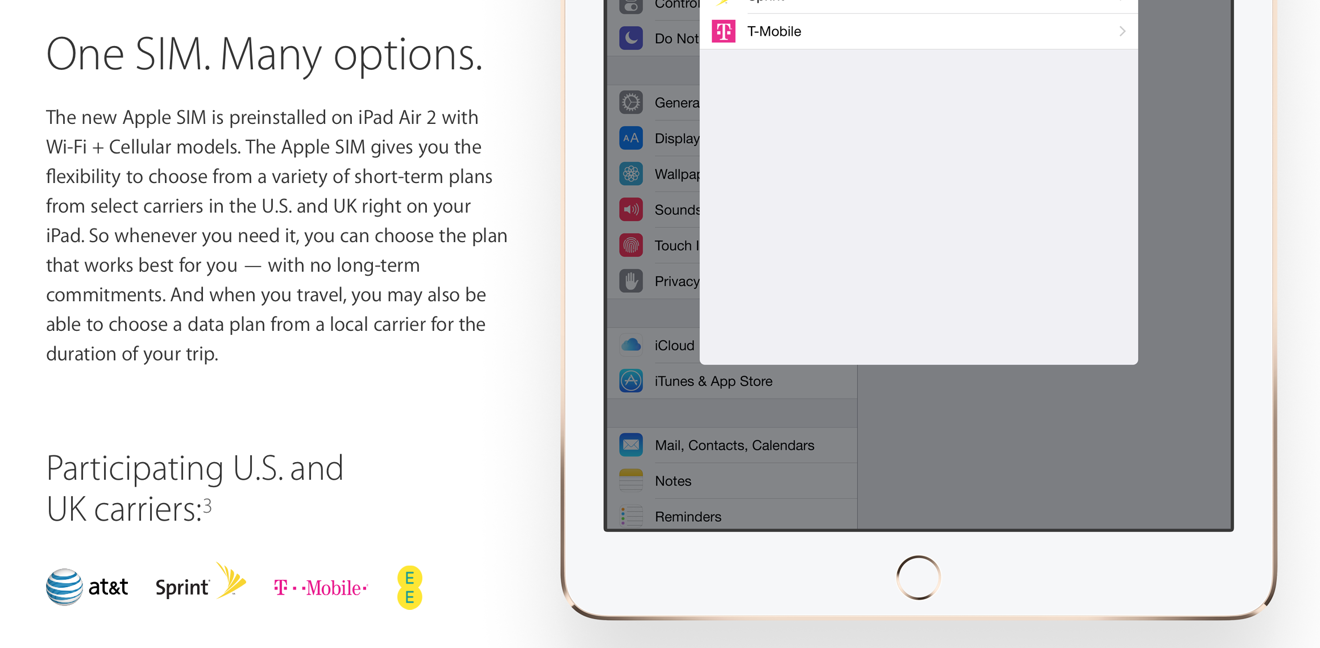 The next-generation iPad Air will ship with a multitude of new features — like the A8X chip, faster 802.11ac Wi-Fi, and a fully-laminated display — but there is one addition that the company did not reveal on stage: a preinstalled "Apple SIM" that will be recognized by wireless providers around the world.
Cellular-enabled iPad models have traditionally shipped either with no SIM or the SIM of the dominant GSM-based carrier in their country, unless purchased from a specific wireless provider. Apple is attempting to change that paradigm with the Apple SIM, which the company says "gives you the flexibility to choose from a variety of short-term plans from select carriers in the U.S. and UK right on your iPad."
Users have always been able to insert a new SIM into their iPad when moving around, but the process is tedious and the ability to start-and-stop data service from the tablet's settings menu is lost. The Apple SIM should rectify that for users traveling to countries with participating carrier partners.
At launch, only AT&T, Sprint, and T-Mobile in the U.S. and EE in the U.K. have signed on. Apple does hint that more may be available in the future, however.
"And when you travel, you may also be able to choose a data plan from a local carrier for the duration of your trip," the company said.
The Apple SIM appears to be a traditional hardware SIM, and likely works by having its identification number registered with each of Apple's participating carrier partners. Apple has previously explored embedded SIM technology, but those plans were shelved following a carrier revolt.
Apple's iPad mini 3 will also ship with an Apple SIM, but there do not appear to be plans yet to offer it as a standalone solution.