Apple's Mac mini receives long-awaited update with 4th-gen Intel CPUs, price cut to $499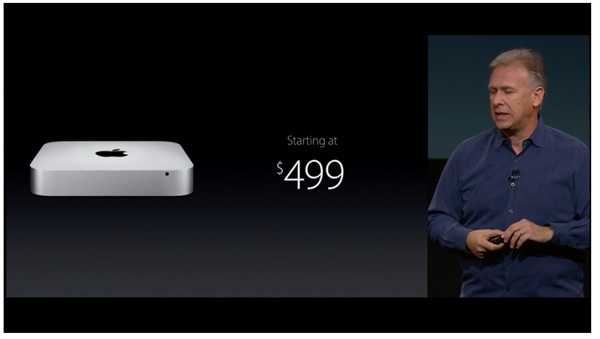 AppleInsider may earn an affiliate commission on purchases made through links on our site.
Apple's tiny, affordable Mac mini desktop received a hardware refresh and an accompanying price cut on Thursday, featuring 4th-generation Intel Core processors and 802.11ac Wi-Fi, starting at $499.
The new Mac mini lineup features integrated Intel Iris and HD Graphics 5000. It also has PCIe-based flash storage for faster performance.
The hardware refresh adds two Thunderbolt 2 ports and 802.11ac Wi-Fi connectivity, but retains the title of world's most energy efficient desktop.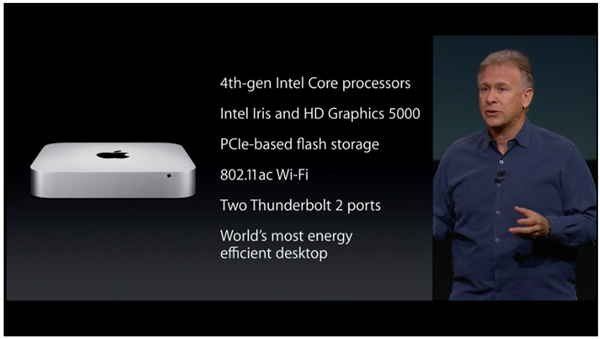 Though it had been priced at $599 for some time, the Mac mini saw a reduction on Thursday, with a new entry price at $499 for a 1.4 GHz dual-core Intel Core i5 with Turbo Boost speeds up to 2.7 GHz, 4GB of memory, Intel HD Graphics 5000 and a 500GB hard drive. Customers can configure their machine with a top-shelf 3.0 GHz dual-core Intel Core i7 processor, up to 16GB of memory, and up to a 1TB PCIe-based flash drive. The units are shipping to customers starting today.
Where to Buy
Thew new Mac mini is currently available for order from AppleStore.com and MacMall.com ($494, $694, $994), with MacMall adding the benefit of only collecting sales tax in a handful of states. Additional discount retailers are expected to begin adding the product to their online stores over the next few weeks, so shoppers can keep an eye on the Price Guides.