Apple crushes Sept. quarter record, earning $8.5B profit on sales of 39M iPhones, 5.5M Macs
Apple officially closed out fiscal 2014 on Monday with the results from another record setting quarter, with the just-concluded September frame resulting in $8.5 billion in net profit on revenue of $42.12 billion, driven largely by the hugely profitable iPhone and including the newly launched iPhone 6 series.
Total iPhone sales for the quarter ending Sept. 27 were 39.27 millions, a new quarterly record from the company and up from 37.79 million units a year ago. Mac sales were also at a new all-time high for the company, reaching 5.5 million units in the three-month period, up more than a million compared the September 2013 quarter.
Apple's revenue of $42.12 billion was up from $37.47 billion in the September 2013 quarter, and also exceeded market expectations of around $40 billion. It also came in above Apple's guidance range.
The iPhone set a new quarterly record, while the Mac achieved a new all-time high in the September quarter. iPad sales were down, however.
Net profit was $8.5 billion, or $1.42 per diluted share, comparing to $7.5 billion in net profit, or $1.18 per diluted share a year ago. Gross margins were also up to 38 percent this year, compared to 37 percent from 2013.
iPad sales for the quarter were at 12.3 million, another year over year decline from the 13.1 million the company shipped a year ago. The iPad will see a refresh this week when the new iPad Air 2 and iPad mini 3 begin shipping to consumers in time for the lucrative holiday shopping season.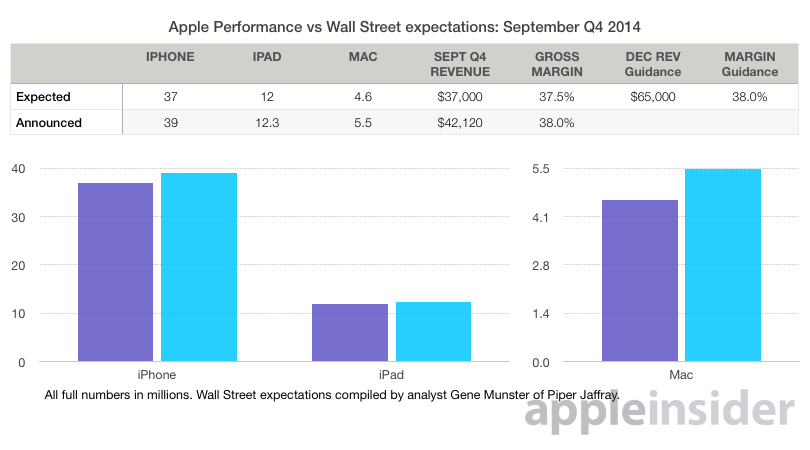 "Our fiscal 2014 was one for the record books, including the biggest iPhone launch ever with iPhone 6 and iPhone 6 Plus," said Apple Chief Executive Tim Cook. "With amazing innovations in our new iPhones, iPads and Macs, as well as iOS 8 and OS X Yosemite, we are heading into the holidays with Apple's strongest product lineup ever. We are also incredibly excited about Apple Watch and other great products and services in the pipeline for 2015."
The quarter included just over a week of iPhone 6 and iPhone 6 Plus sales. Apple does not break down figures based on individual models, so it's unknown how many were shipped aside from the 10 million that hit store shelves for the September launch weekend.
The company's board of directors also declared a cash dividend of $.47 per share of its common stock. The dividend is payable on Nov. 13 to shareholders of record as of the close of business on Nov. 10.
Looking forward to the first fiscal quarter of 2015, which runs through late December, Apple is guiding revenue between $63.5 billion and $66.5 billion, and gross margins between 37.5 percent and 38.5 percent. It expects operating expenses between $5.4 billion and $5.5 billion, with other income of $325 million, and a tax rate of 26.5 percent.
"Our strong business performance drove EPS growth of 20 percent and a record $13.3 billion in cash flow from operations in the September quarter," said Apple Chief Financial Officer Luca Maestri. "We continued to execute aggressively against our capital return program, spending over $20 billion in the quarter and bringing cumulative returns to $94 billion."