Apple leadership awarded restricted stock unit bonus currently worth $19M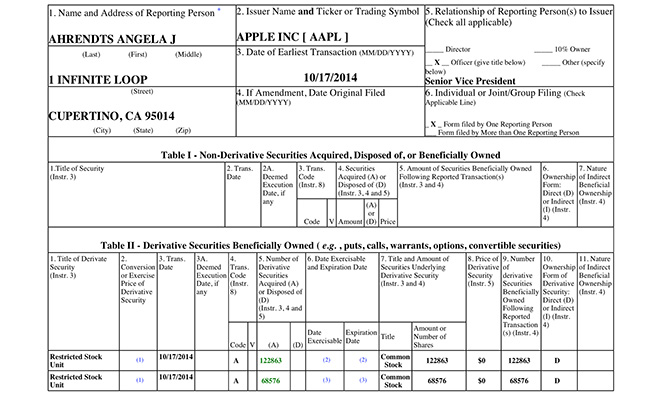 AppleInsider is supported by its audience and may earn commission as an Amazon Associate and affiliate partner on qualifying purchases. These affiliate partnerships do not influence our editorial content.
Eight Apple executives last week were awarded identical bonuses in the form of conditional RSUs worth over $19.6 million at the stock's current price, according to a U.S. SEC filing.
The awards were disclosed in a Tuesday filing with the U.S. Securities and Exchange Commission, noting eight of Apple's leadership were each granted 191,439 RSUs scheduled to vest in three intervals through 2019. At Apple's current price, the RSUs are valued at $19.6 million.
Those addressed in today's filing include Apple SVP of Retail and Online Stores Angela Ahrendts, SVP of Internet Software and Services Eddy Cue, SVP of Software Engineering Craig Federighi, SVP and CFO Luca Maestri, SVP of Hardware Engineering Dan Riccio, SVP of Worldwide Marketing Phil Schiller, SVP and General Counsel Bruce Sewell and SVP of Operations Jeffrey Williams.
As it has in past bonus awards, Apple is issuing the restricted units as an incentive for continued employment and sustained output, as the vesting dates reach far into the future. Specifically, the units are to be divvied up in three batches scheduled to vest April 1, 2017, April 1, 2018 and April 1, 2019.
In addition to the employment requirement, the RSUs vest according to relative total shareholder return as calculated from Sept. 28, 2014 through Sept 30, 2017, with between 0 and 200 percent of the "target" number of units vesting on Oct. 1, 2017.
It should be noted that Sewell's SEC filing may contain an error as it shows 191,439 derivative securities disposed on Oct. 17, not acquired. The subtext explanation and number of shares reported as owned following the transaction add up to Apple's RSU bonus, however.