Apple's new A8X powered iPad Air 2 smokes new Android tablets, including Nvidia's Tegra K1 Shield Tablet [u]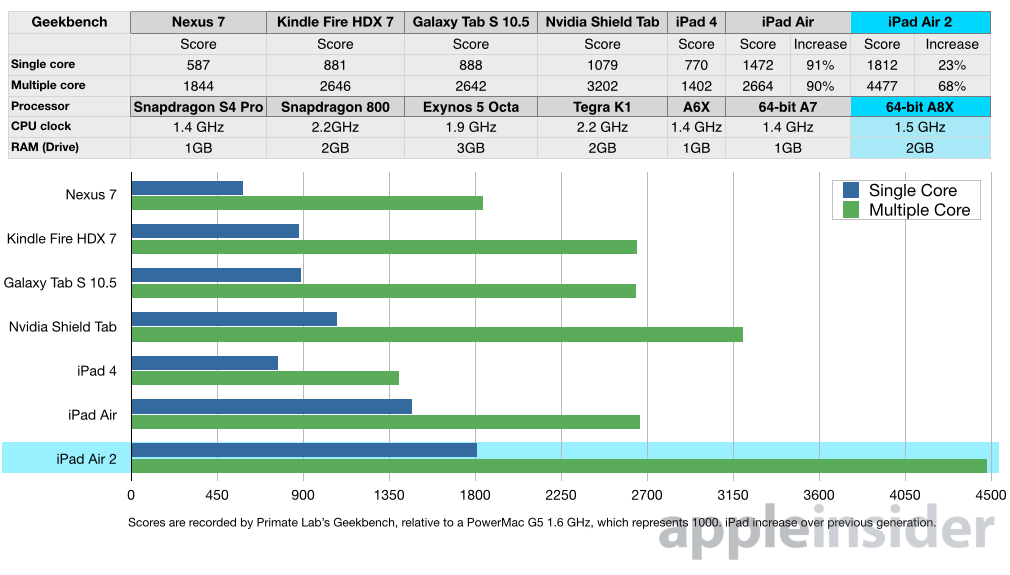 New Geekbench processor benchmarks show Apple's triple core, 64-bit A8X Application Processor is dramatically faster than the latest Android tablets, despite their additional cores and faster clock rates.
Previous Android tablets ranging from Amazon to Samsung delivered multiple core benchmarks in the ballpark of Apple's original iPad Air, despite running much faster and incorporating two to three times as much RAM in a thicker— or in the case of Samsung, plastic— body. Their single core scores were significantly lower however, closer to Apple's fourth generation iPad from late 2012.
In 2013, Google's Nexus 7 similarly lagged Apple's iPad 4 in single core performance, but benchmarked higher for software that could take advantage of multiple cores. Nexus 7 was primarily marketed as being cheaper than similar iPads, but Google has since shifted its strategy for its latest crop of Nexus tablets, which are now more expensive.
The fastest Android tablet, a gaming-oriented device produced by Nvidia to show of the power of its Tegra K1 Application Processor, has ruled the roost in CPU benchmark performance since its release this summer, although it ironically can't run some of the most popular games, including top Google Play title "Five Nights at Freddy's."
Google's new, more expensive Nexus 9 will use a Tegra K1 similar to the Shield Tablet in a form factor designed to look and work more like an iPad than conventional 16:9 Android tablets. It will also be priced higher. The HTC-built Nexus 9's K1 uses Nvidia's new 64-bit "Denver" dual core CPU. It has not yet been released or benchmarked
[Update: According to figures published by GSMArena, Nexus 9 turns in scores (added below) that are much better in single core but only slightly better in multiple core benchmarks than the original Tegra K1 Shield Tablet. Its single core performance is similar to iPad Air 2 but its multiple core CPU performance is beat by the A8X iPad Air 2 by 34.8 percent.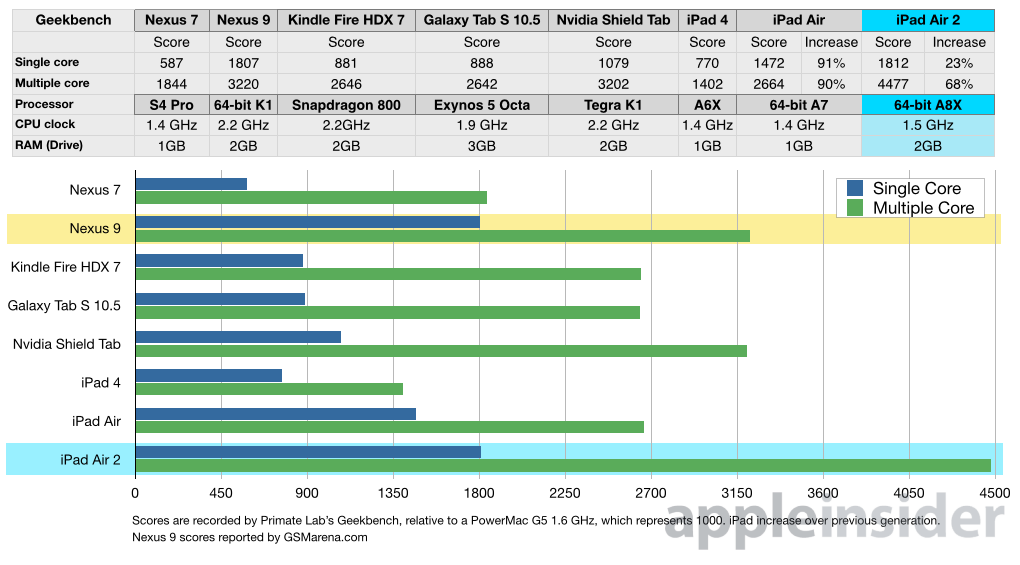 ]
According to numbers published by Geekbench developer Primate Labs (above), Apple's iPad Air 2 is 39.8 percent faster than the K1 powered Shield Tablet in multiple core tests, even using three cores to the K1's four core chip design. In single core tasks, iPad Air 2 scores 67.9 percent faster than the K1.
Compared to Samsung's own Exynos 5420 Octa Application Processor, used in its Galaxy Tab S 10.5 introduced alongside the Shield Tablet this summer, Apple's iPad Air 2 is 69.5 percent faster in multiple core tasks (again with three cores to the Exynos' 4 active cores or 8 advertised cores) and 104 percent faster in single core tasks, even clocked significantly slower and with 2GB rather than 3GB of RAM.
AppleInsider is still waiting to obtain A8X GPU performance benchmarks for the new iPad Air 2, which should be interesting to compare against Nvidia's K1 "Kepler" GPU architecture, given Nvidia's core competency in GPU design. [Update: benchmarks here]
The less powerful A8 chip Apple uses in its iPhone 6 and 6 Plus models already shows a large advance over the GPU performance of Samsung's ARM Mali-based GPU used in the Exynos 5 Octa versions of its Galaxy smartphones and phablets, and is roughly tied in core GPU performance with Qualcomm's Adreno 420 GPUs used in the Snapdragon 805, which powers most higher end Android smartphones.
However, due to limitations in Android software, as well as Android licensees' spec-centric engineering decisions that resulted in putting extremely high resolution 2K "WQHD" displays on 5 to 6 inch smartphones, Qualcomm's GPU performance parity with the A8 is erased, resulting in OpenGL ES 3.0 performance roughly half that of iPhone 6 Plus and even worse when compared to iPhone 6 at its native Retina HD resolution.