Fitbit unveils new Charge, Charge HR & Surge digital fitness trackers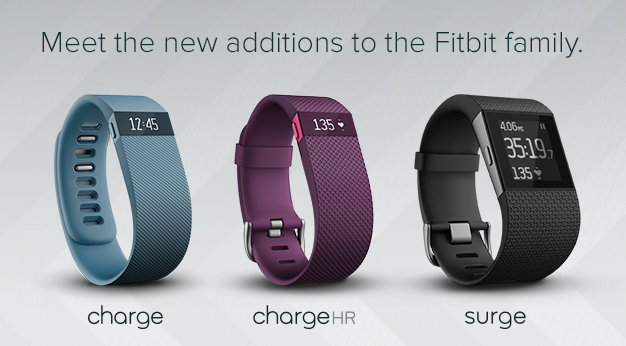 Fitbit on Monday gave fitness buffs three new options for wrist-worn activity trackers, introducing the Charge and Charge HR — Â spiritual successors to the Fitbit Force — alongside the Fitbit Surge, which the company is calling a "fitness super watch."
The Fitbit Charge and Charge HR sport a nearly identical form factor to the Force, and continue to track activity metrics including steps taken, distance traveled, calories burned, and floors climbed. They include the same small, slightly-angled OLED display that shows the current time as well as the wearer's daily statistics.
Other previous Force features — Â including sleep tracking, vibration alarms, Caller ID display, and exercise tracking — Â also continue in the new incarnations.
The Charge HR does the Charge one better with a more standard watch-like band closure, and adds continuous heart rate monitoring via built-in optical pulse tracking technology similar to that found in the Apple Watch. The two fitness bands are rated for seven and five days of battery life, respectively.
The Surge, meanwhile, is an all-new "fitness super watch" that comes with a larger touch-screen LCD panel. It includes a built-in GPS receiver to track larger movement statistics like pace, distance, elevation, split times, route history.
Fitbit has packed eight sensors into the Surge, including 3-axis accelerometers, gyroscope, compass, ambient light sensor, GPS and heart rate sensors.
In an effort to compete against more fully-featured smartwatches that also include fitness functionality, Surge users can receive text alerts on the device, and gain the ability to control music on their mobile phone. Fitbit says the Surge is good for seven days of battery life.
The Fitbit Charge is available now from Fitbit.com for $129.95 in black or slate, with blue and burgundy coming soon. The Charge HR and Surge will be available in "early 2015" for $149.95 and $249.95, respectively.