Apple reportedly acquires cloud startup Union Bay Networks, to open engineering office in Seattle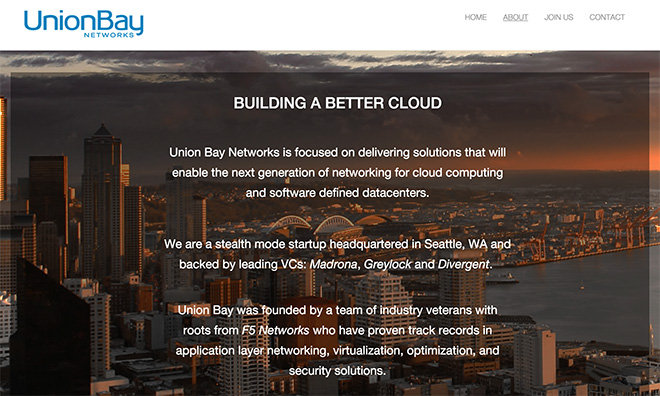 AppleInsider may earn an affiliate commission on purchases made through links on our site.
Following the discovery that Apple is hiring in the Seattle area, the company on Monday confirmed that it will be opening an engineering office in the state, with reports pointing to the acquisition of local cloud computing startup Union Bay Networks.
While an Apple spokesperson confirmed to The Seattle Times that it is building out an engineering office in the region, the company would not directly state that it had purchased Union Bay. In lieu of an official declaration, the representative offered the usual PR boilerplate, saying Apple "buys smaller technology companies from time to time, and we generally do not discuss our purpose or plans."
Founded by members of F5 Networks, a cloud and data networking solutions firm, Union Bay was a stealth startup with funding from Madrona Venture Group, which declined comment on a possible Apple buy. According to Union Bay's website, it was "focused on delivering solutions that will enable the next generation of networking for cloud computing and software defined datacenters."
It is unknown at this time how Apple plans to incorporate Union Bay Networks into its business model, though the publication believes the purchase to be a so-called "acqui-hire" for talent as at least five former employees have switched their LinkedIn profiles to reflect current employment at Apple. Further, Union Bay's email address is no longer in service, suggesting the company has been shut down or otherwise assimilated.
Hinting at future work on iCloud, Benn Bollay, a former F5 Networks engineer who in September changed his LinkedIn status from Union Bay Networks CTO to "Manager at Apple," posted a public notice to his profile announcing he is hiring for the Seattle office. Bollay, in his capacity as Apple manager, is "looking for talented multidisciplinary engineers to design and develop the core infrastructure services and environments driving every online customer experience at Apple ranging from iCloud to iTunes."
The post has since been removed.
Earlier on Monday, GeekWire reported on Apple's Seattle job openings, noting there are already 30 people working for the company in the area.