Amazon's 'Echo' is a standalone Siri-like virtual assistant for the home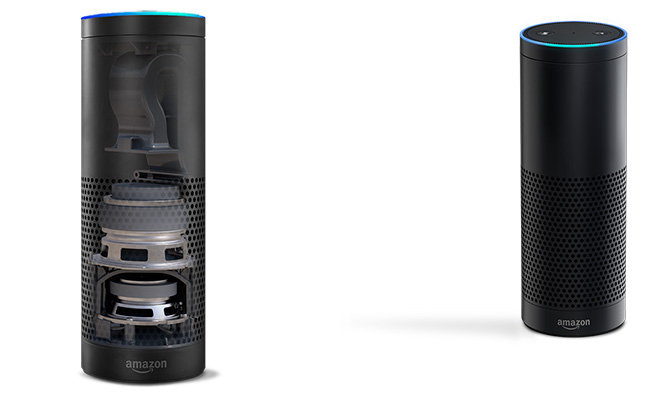 AppleInsider may earn an affiliate commission on purchases made through links on our site.
In a surprise announcement on Thursday, Amazon revealed a new first-party hardware product class in "Echo," an Internet-connected virtual assistant stuffed into a tubular standalone speaker.
Amazon Echo's feature list includes more than a few similarities with Apple's Siri, Microsoft's Cortana and Google Now, including support for online queries, voice-activated ask-and-answer functions and extensibility into mobile apps. But unlike competing virtual assistants, Echo is a purpose-built, stationary device meant to be used in the home.
Activated by a user-assignable key word, which apparently is set to "Alexa" by default, Echo can fetch information from the Web, play music, set alarms and conduct basic PDA functions like updating a to-do list.
Echo's AI lives in the cloud and meshes with Amazon's AWS network to bring live updates and advanced capabilities like adapting to a user's speech patterns.
On the hardware side, Amazon baked in far-field microphone technology that uses seven beam-forming sensors and noise cancellation to detect commands from across the room. The system is smart enough to parse out sound from its own speaker to listen for user input while playing music.
The speaker setup is a 360-degree sound design with a 2-inch tweeter situated in Echo's base, a 2.5-inch woofer just above and a bass reflex port. Volume is controlled via a ring at the top of the pedestal.
As for music, Echo connects with Amazon Music, Prime Music, iHeartRadio, and TuneIn accounts and supports Bluetooth audio streaming from mobile devices.
For now, at least, Amazon is keeping mum on the prospect of integrating Echo with its huge e-commerce business, but the step would be a short one if and when that day comes. As seen in the explainer video, Echo can already add items to a virtual shopping list on the Echo app for FireOS and Android. Users of Apple devices can access Echo functions through a browser-based UI.
Amazon is taking requests for invitations to buy Echo at a price of $199, or $99 for Amazon Prime members. A release date has not yet been announced, but the reservation site says invitations are slated to go out in the "coming weeks."