Analysis of Apple's A8X SoC uncovers customized GPU, confirms 3-core architecture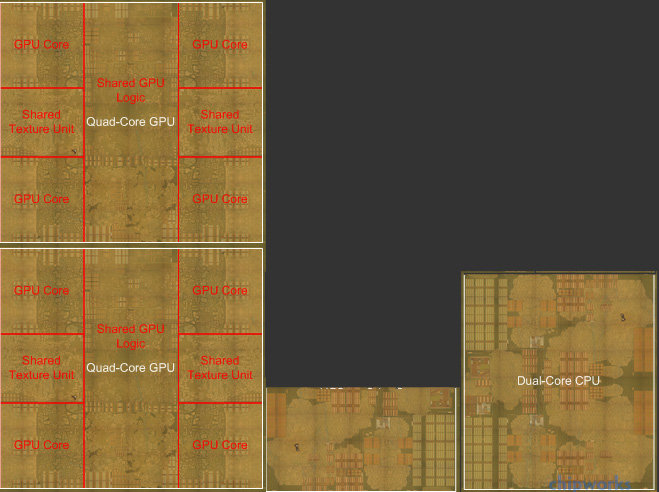 Apple appears to have moved to a semi-custom design for the graphics processor in its new A8X SoC while employing an unusual triple-core CPU, according to a new analysis of the chip that powers the iPad Air 2.
The A8X's 8-core GPU is not an off-the-shelf part from longtime partner Imagination Technologies —  which has not yet released such a part —  but instead seems to be a bespoke design that essentially combines two of Imagination's 4-core GX6450 GPUs. The new design was discovered by AnandTech.
Apple is a minority investor in Imagination and licenses their GPU designs, similar to the Cupertino company's arrangement with semiconductor firm ARM, which allows them to create customized versions of the parts for inclusion in the A-series chips.
In addition to the custom GPU, the A8X was found to contain only three physical CPU cores. Its tri-core design was already known, but many previously speculated that it may be a conventional quad-core design with one core simply disabled.
In addition to the extra GPU and CPU cores, the A8X contains approximately 1 billion more transistors than the A8 that powers the iPhone 6 series. The company also doubled the processor's L2 cache to 2 megabytes, increased the clock speed to 1.5 gigahertz, and moved to a 128-bit wide memory bus.