Morgan Stanley raises Apple price target to $126, says investors underestimate Apple Watch
Morgan Stanley joins a number of other investment firms that have raised their price targets on shares of Apple stock this week, reflecting significant gains posted by the company heading into the holiday shopping season and in anticipation of next year's debut of the Apple Watch.
Analyst Katy Huberty said in a note to investors this week that she sees shares of Apple reaching $126, up from her previous target of $115. Apple blew past the $115 price point in trading on Thursday, following upgrades on its stock from Morgan Stanley, as well as Evercore and Piper Jaffray.
And while Huberty's new target is set at $126, her range for AAPL stock extends to $150 in Morgan Stanley's "bull case" projection. The analyst said in her note, a copy of which was provided to AppleInsider, that she believes investors are underestimating demand for the upcoming Apple Watch, set to launch in early 2015.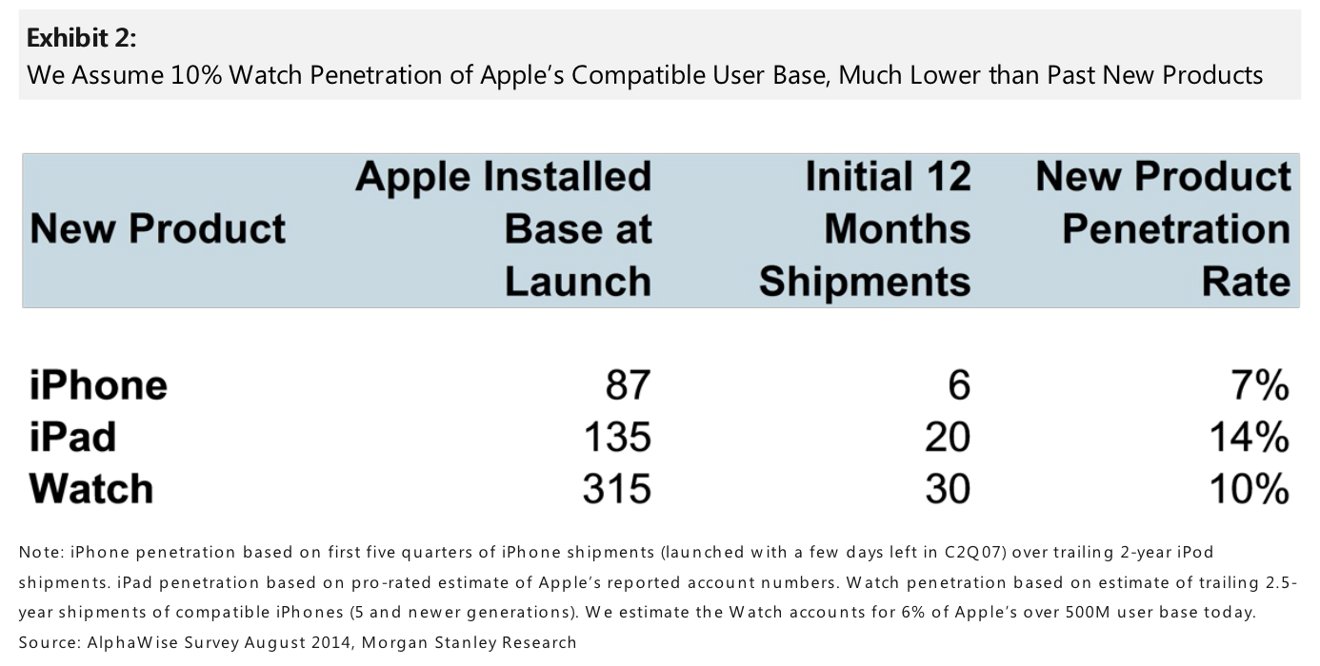 Like the iPhone and iPad before it, the Apple Watch will achieve strong sales right out of the gate, Huberty believes. Her estimates call for 10 percent of the compatible iPhone user base to buy an Apple Watch, which would translate to 30 million units sold in calendar year 2015.
For example, before the first iPhone launched in June 2007, Huberty said Wall Street generally expected Apple to ship 9 million units in fiscal year 2008. In reality, Apple exceeded that number and shipped 12 million units.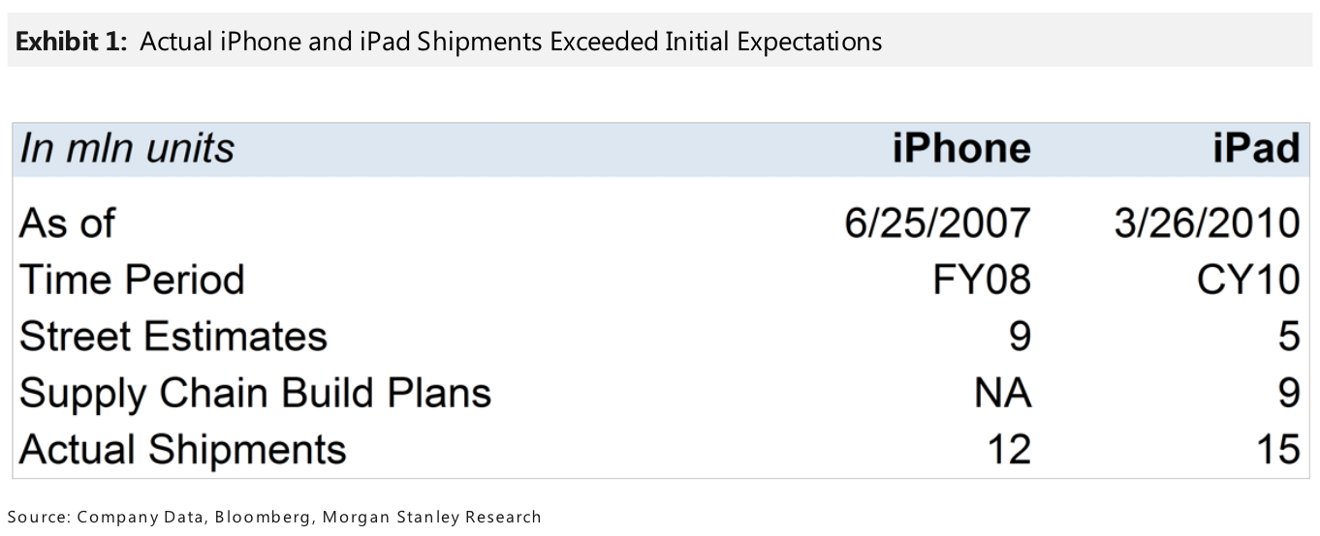 And with the iPad, estimates pegged calendar year 2010 shipments at 5 million units, but Apple actually shipped 15 million iPads in the tablet's first year.
Huberty's 30 million unit estimate for the Apple Watch is on the high end of market expectations, but she still believes her number is a conservative guess. That's because Huberty expects that the wearable devices market will be the fastest ramping consumer device category to date, growing even faster than modern smartphones and tablets did after they debuted.
With Huberty's revised price target of $126, a total of four investment firms tracked by AppleInsider have increased their estimates this week alone. Piper Jaffray and Evercore have both set new targets of $135, while RBC Capital Markets raised its target to $120 on Monday.
UBS also upped its target earlier this month to $125. Analysts have been revising their estimates in the wake of recent gains by the company, which has been setting new all-time highs for its stock price following the results of a blockbuster September quarter.
Some, however, have yet to revise their targets, most notably Manyard Um of Wells Fargo Securities. Um has rated AAPL as "market perform," and currently holds a valuation range for the stock at between $92 and $102, even though Apple has not traded in that price range for over a month.