China's cyberspace minister meets Apple CEO Tim Cook during Silicon Valley swing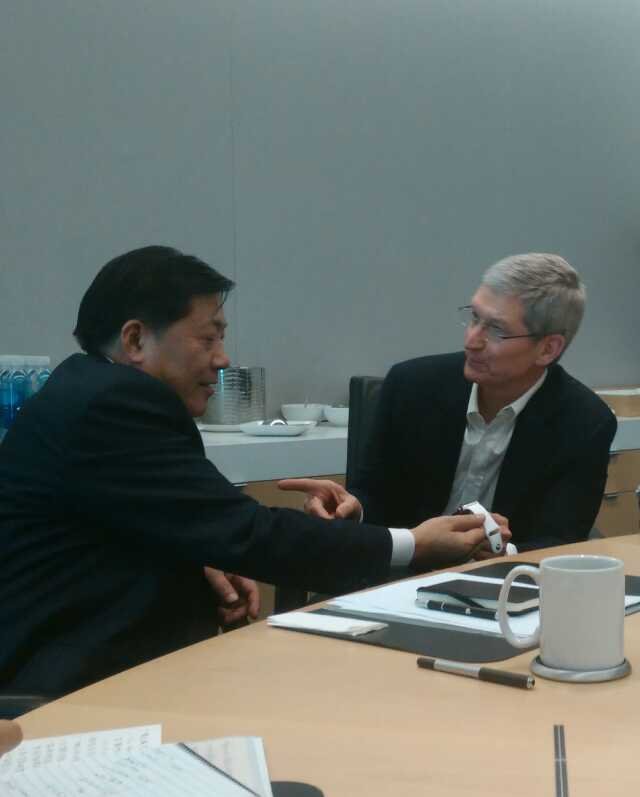 With Silicon Valley still at odds with the Chinese government, executives from Apple, Facebook, and Amazon played host to Lu Wei, the chairman of China's State Internet Information Office, during the Asian politician's recent trip to the U.S.
Lu met with Apple CEO Tim Cook, Facebook chief Mark Zuckerberg, and Amazon boss Jeff Bezos on the trip, according to a report from Chinese state media, which was subsequently picked up by Bloomberg. In one photo accompanying the report, Cook is showing Lu what appears to be an Apple Watch.
There is no word on the exact dates of Lu's visit, or what was discussed during the meetings.
Apple has had a love-hate relationship with China in recent years. The Asian nation is one of Apple's most important and fastest-growing markets, but clashes with the government have resulted in delayed product introductions and public relations snafus.
Most recently, the Chinese government was accused of performing a man-in-the-middle attack on iCloud, attempting to intercept users' communications. The issue was serious enough that it prompted Cook to travel to China to meet with Vice Premier Ma Kai, talks with Cook later classed as "very open."
Before that, the company experienced regulatory delays when attempting to have the iPhone 6 and iPhone 6 Plus cleared for sale in the country. The handsets eventually hit mainland shelves in October, just over one month after their release in the U.S. and Hong Kong, a special administrative region of China with a separate regulatory infrastructure.