Apple poised to overtake Nokia in mobile phone sales after 26% iPhone surge in Q3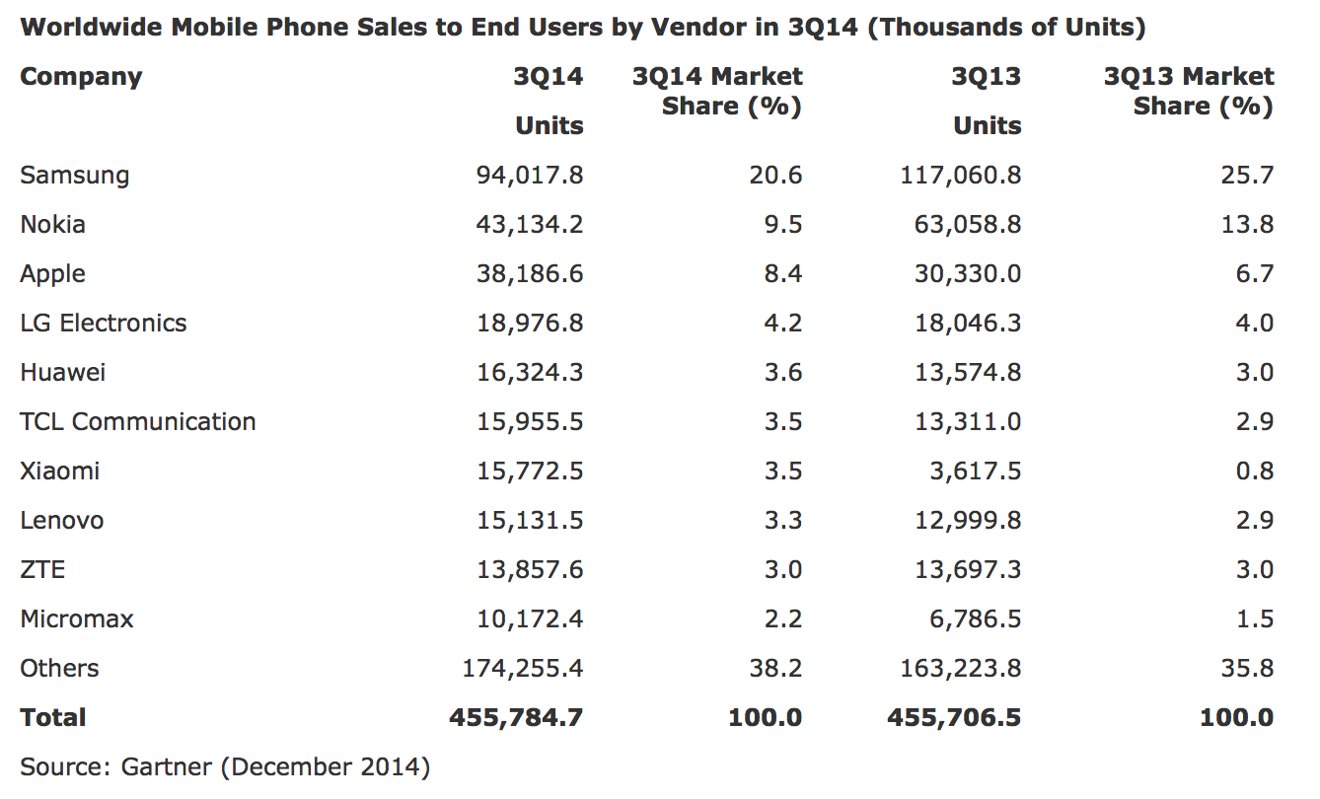 Handset heavyweight Nokia could cede its position as the second-largest mobile phone vendor in the world to Apple as soon as the fourth quarter of this year, as an iPhone 6-powered sales spike has pushed the Cupertino company to near-parity with the Finnish giant, according to the latest research from Gartner.
Apple is thought to have sold some 38.2 million iPhones in the third quarter of 2014, according to market research firm Gartner's quarterly handset sales tracker. Nokia sold some 43.1 million handsets, while market leader Samsung moved 94 million devices.
Notably, the tally for both Nokia and Samsung includes feature phones alongside smartphones. With the former excluded, Apple is behind only Samsung, while Nokia falls out of the top five manufacturers.
Those figures represent a 26 percent year-over-year increase for Apple, compared to a precipitous 32 percent decline in sales for formerly-dominant Nokia. Samsung experienced a dramatic 20 percent drop of its own as sales of feature phones plummeted.
Under the rubric of market share, Apple rose from 6.7 percent to 8.4 percent in the same period. Both Nokia and Samsung saw their share eroded, from 13.8 percent to 9.5 percent and from 25.7 percent to 20.6 percent, respectively.
For comparison, Nokia held some 46.7 percent of the market in the first quarter of 2007, when the iPhone was introduced.
Since 2007, Nokia's mobile phone market share has plunged from 46.7 percent to just 9.5 percent.
Next to Apple, Chinese smartphone makers gained the most in the quarter. Huawei and TCL added 0.6 percentage points each and remain the largest manufacturers in their home country, though upstart Xiaomi added 2.7 percentage points and sold just half a million fewer handsets than Chinese leader Huawei.
"With the ability to undercut cost and offer top specs Chinese brands are well positioned to expand in the premium phone market too and address the needs of upgrade users that aspire to premium phones, but cannot afford Apple or Samsung high-end products," Gartner research director Roberta Cozza said in a release.
The firm expects the same sales trends to continue throughout the holidays, with Apple's newest large-screened handsets pushing even larger sales numbers.
"Over the holidays we expect record sales of the iPhone 6 and iPhone 6 Plus, but we should not underestimate the Chinese vendors and local brands," Cozza's colleague Annette Zimmermann said. "Chinese players will continue to look at expanding in overseas emerging markets. In Europe prepaid country markets and attractive lost-cost LTE phones will also offer key opportunities for these brands."