Apple's iTunes DRM didn't violate antitrust laws, jury finds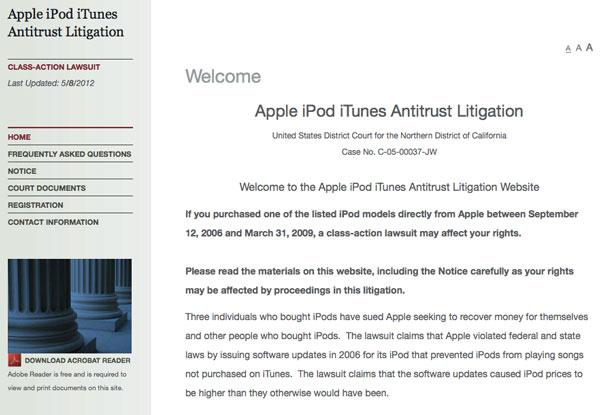 AppleInsider may earn an affiliate commission on purchases made through links on our site.
After years of litigation, Apple on Tuesday was found not to have violated U.S. antitrust laws with the FairPlay digital rights management software that prevented users from loading content from rival music stores on early iPods.
The jury returned the not guilty verdict less than a day after deliberations began, according to Reuters. If found guilty, Apple could have paid some $350 million in penalties.
Both Apple and the plaintiffs gave their closing arguments on Monday. The case focused on Apple's iTunes 7.0 software update, which the plaintiffs argued "knocked out competitors" like RealNetworks.
Apple successfully convinced the jury that its iPod and iTunes security measures were installed to protect users from potentially malicious software, and not to marginalize competing music download services.
Before Tuesday's decision, the suit saw its share of troubles, including improper representation of the class by its original plaintiffs. The trial involved a class of plaintiffs who purchased Apple's iPod classic, iPod shuffle, iPod touch or iPod nano models between Sept. 12, 2006 and March 31, 2009.
Apple successfully argued its iPod and iTunes security measures were installed to protect users from potentially malicious software outside of their control. The company's security director Augustin Farrugia testified in court that Apple was "very paranoid" in implementing an extremely protected digital music service, especially when it came to possible pirated music and malware.
The complaint was first filed against Apple in 2005, and originally centered around RealNetworks and Apple's efforts to block songs from its storefront to be transferred to iPods. The lawsuit took issue with Apple's "refusal to license FairPlay technology to other companies," but those claims were dismissed in December of 2009 after Apple negotiated a deal with record labels to remove DRM from music purchases.
The lawsuit carried on, however, accusing Apple of violating federal antitrust laws. Apple co-founder Steve Jobs was even ordered to testify on the case in 2011, months before his death, and his comments were a key part of the trial.