Work on Apple's new Union Square site begins as existing San Francisco store gets Winter Walk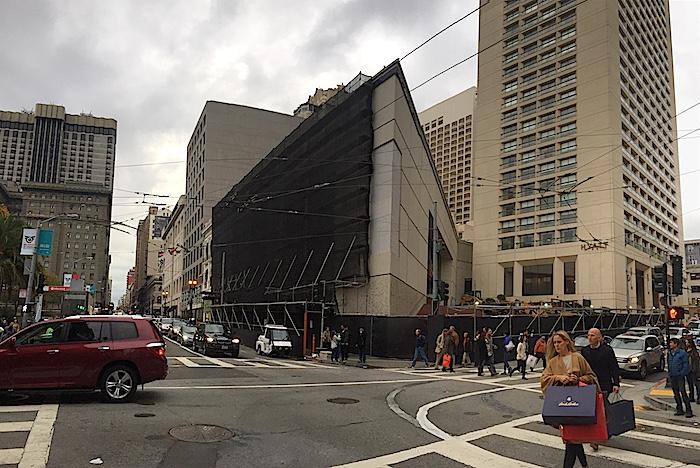 Apple's plans to build a new Union Square retail store in San Francisco are finally getting started with the demolition of an existing building. Meanwhile, just down the street the company's current store is getting a holiday "Winter Walk" plaza treatment.
Work has begun to remove the former Levi's store sitting on the Union Square corner where Apple plans to build a new glass and steel retail cube featuring giant sliding doors.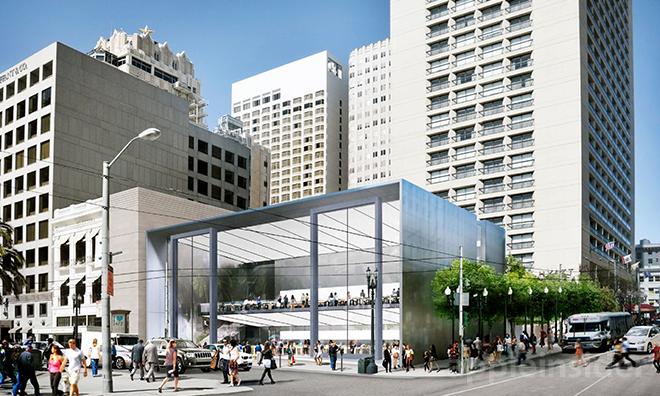 The existing triangular building is now surrounded by scaffolding as workers break down its interior. Also visible on the construction site is the grotesque "folk art" plaza fountain between Levi's and the Hyatt hotel, which gained attention when a local columnist insisted that Apple "save" the work. The object is being moved to a new location.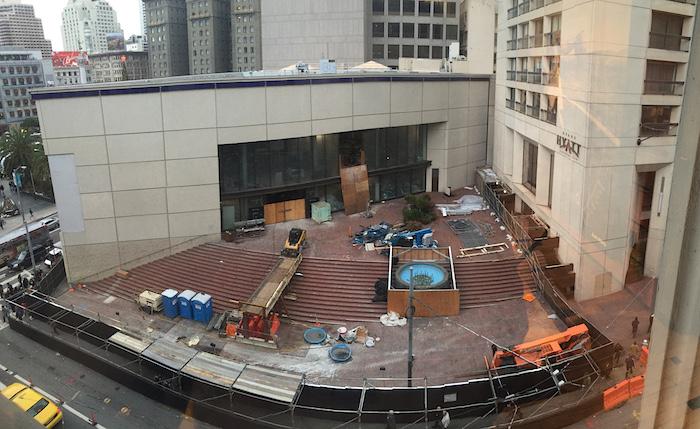 Despite the demolition progress, a source familiar with Apple's construction timeline said the new Union Store location isn't expected to open for another year and a half.
Existing store a Winter Walk a way
Apple's current store is located three blocks away at the intersection of Stockton, Ellis and Market Streets. The location has been plagued with nonstop construction of the Central Subway, which has dug underneath Stockton using tunnel boring machines over the past year.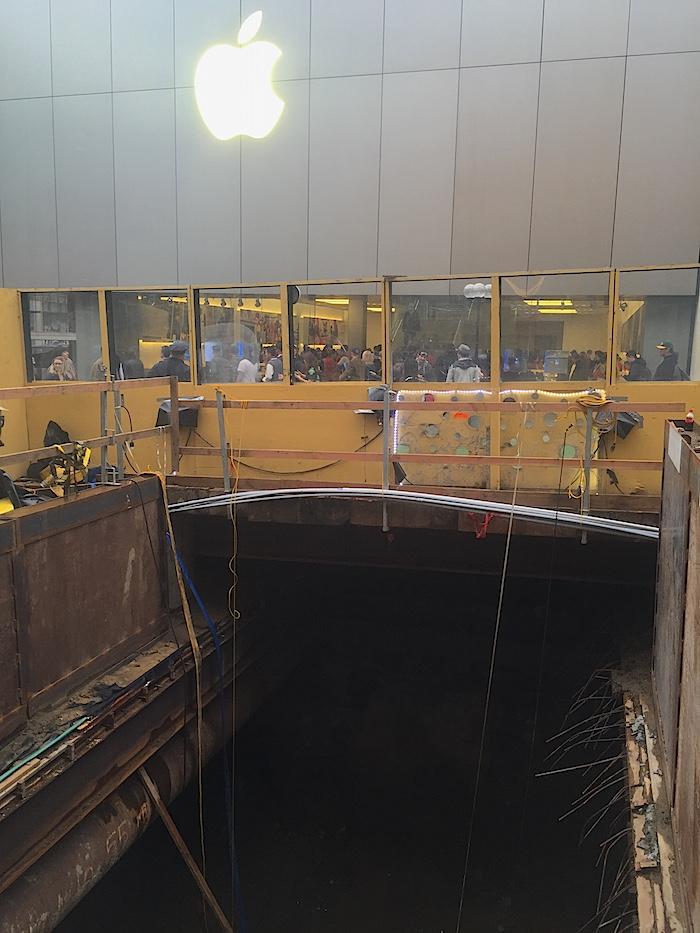 While intended to be minimally invasive compared to digging a "cut and cover" subway passage, the tunnel boring work has closed Stockton Street for more than two years. The street (which passes in front of the current Apple Store) isn't expected to reopen until 2017 at the earliest.
However, because Union Square is at the epicenter of San Francisco's holiday shopping and tourism, surface level street work related to the Central Subway project has stopped through the end of the year. The closed street has been temporarily reopened as a pedestrian mall covered in astroturf.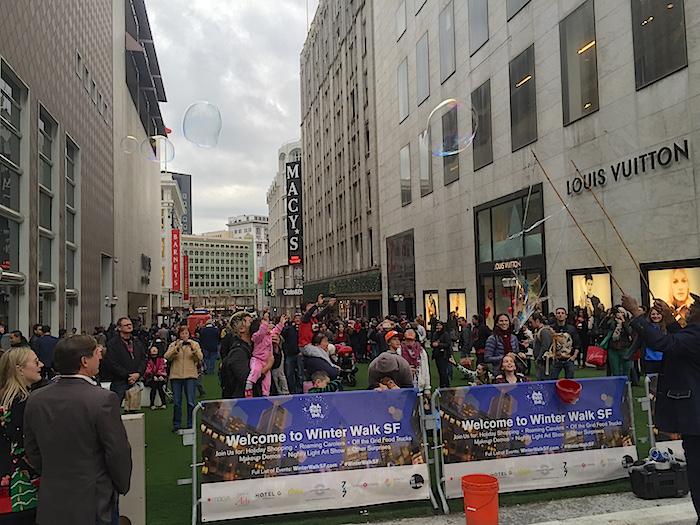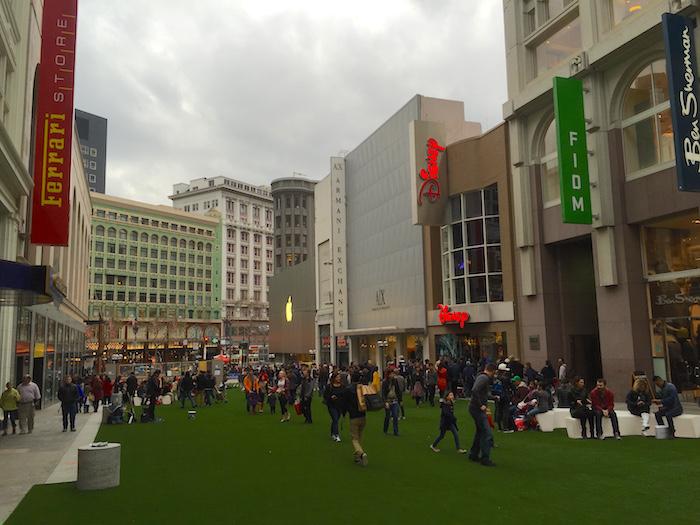 Called the "Winter Walk SF," the two blocks of pedestrian-only plaza taking over Stockton Street have quickly become a popular place for weary shoppers to take a break. The site features street musicians, food trucks, illuminated seating, projection light shows and an man blowing some giant bubbles.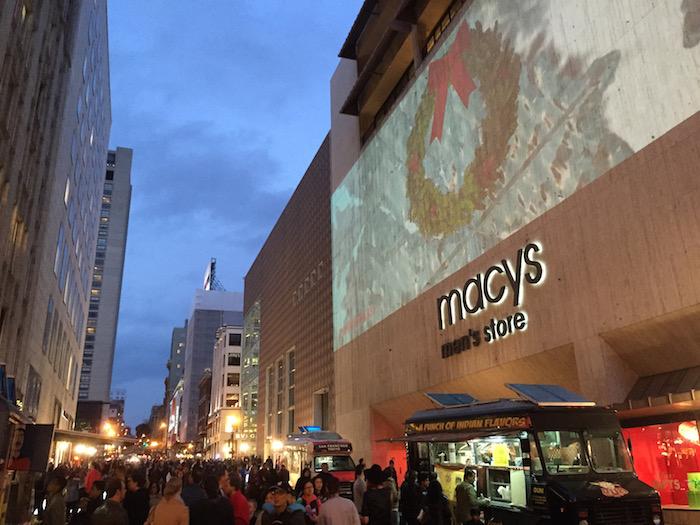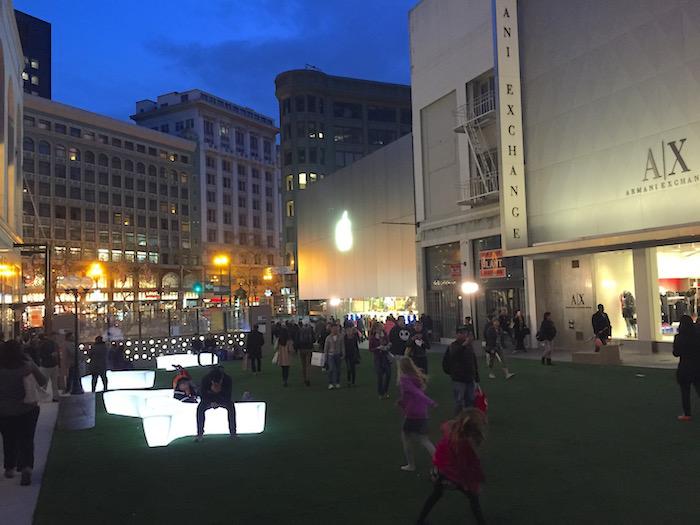 The heavily trafficked pedestrian mall is a reprieve for the Apple Store and other retailers along the stretch of Stockton between Market and Union Square, which until now have faced a boarded up construction zone.
The construction work over the last two and a half years hasn't stopped customers from lining up around the block for the iPhone 5, iPhone 5s and iPhone 6 product launches, and Apple's store remains very busy most of the time, particularly during the holidays.

In stark contrast, Microsoft's retail store and two adjacent retail popups for Samsung mobile products and Amazon's Kindle Fire, located across Market Street in the Westfield Shopping Center, all appeared to have more employees than customers this weekend.