Apple files new San Francisco store renderings featuring massive two-story sliding glass doors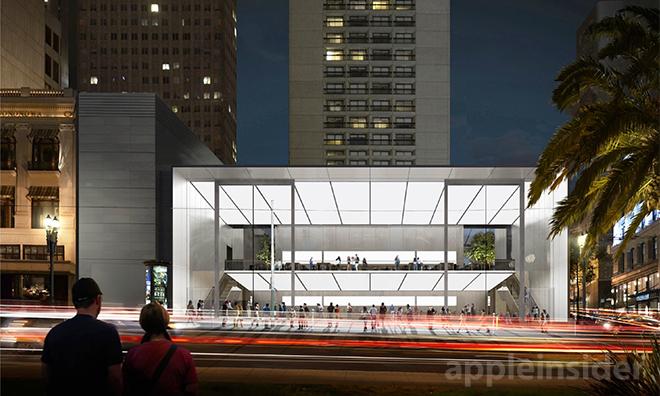 Apple recently filed a set of revised plans for its forthcoming Union Square Apple Store ahead of a permit hearing scheduled for Feb. 5, with the latest documents revealing a redesigned front facade and exhaustive construction summary.
A packet of documents prepared by Foster + Partners and Page & Turnbull reveal the scope of Apple's latest plans for the Union Square location, including the usual bead-blasted steel, structural glass and column-free interior. The new flagship Apple Store will bring a new element to Apple's design arsenal: full-height, two-story sliding glass doors. When closed, each 44-foot steel-framed piece forms one of six panels, which creates a four-panel arrangement when open.
Full‐height, powder‐coated steel framing members will separate the large butt‐glazed glass panels into six bays at the Post Street (front) façade. The center bays of the facade will be operable so they will slide open to create a full‐height opening at the center of the facade.
The renderings, images of which were first published by SocketSite, are part of a larger case report filed with the San Francisco Planning Department and will be used during a hearing with the city's Historic Preservation Commission on Wednesday, AppleInsider has learned. From lighting and glass types to tree species, Apple's plans are laid out in the 258-page packet.
Aside from the gigantic glass doors, not much has changed from the previous plans unveiled in December. The cantilevered steel-and-glass sturcture is an open two-story design with a front facade completely open to Post st., while a rear plaza will feature a waterfall for an "urban oasis" feel.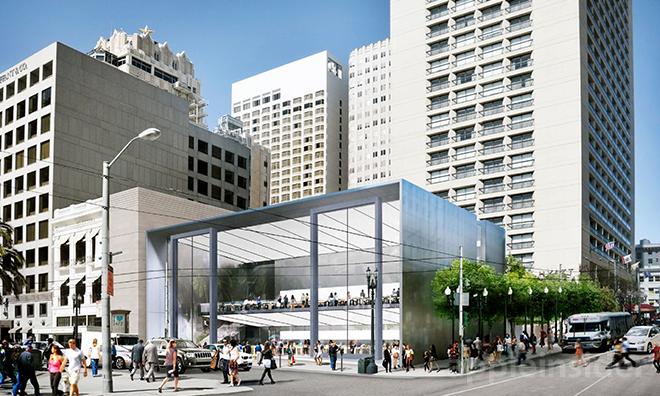 The site has gone through a number of iterations since being announced in early 2013, including concessions for a "folk art" fountain sculpture that is to be moved ten feet and incorporated into the new rear plaza.
Apple's original plans for the Union Square outlet sparked a small controversy over the apparent removal of a fountain designed by local artist Ruth Asawa. The sculpture, which tells the history of San Francisco in 41 plaques made of baker's dough then cast in bronze, dates back to 1973.
A full copy of the report is embedded below.