Apple seeks Shanghai-based Apple Pay engineer ahead of anticipated China launch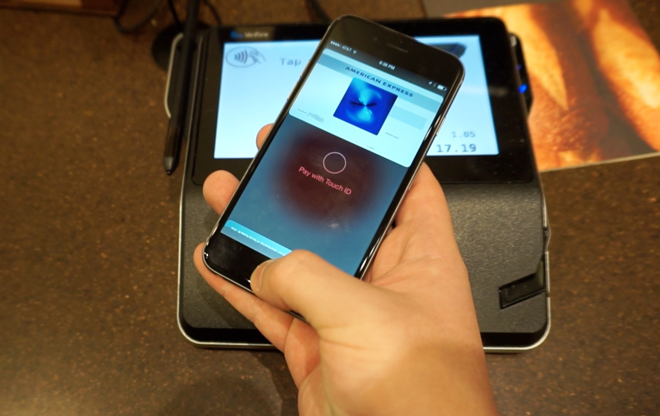 AppleInsider is supported by its audience and may earn commission as an Amazon Associate and affiliate partner on qualifying purchases. These affiliate partnerships do not influence our editorial content.
Apple is gearing up for the global expansion of its tap-to-pay mobile wallet service, Apple Pay, with new hires sought to fill positions avialable around the world, including in China.
This week, Apple began advertising a new position in Shanghai, discovered by AppleInsider, for an "Apple Pay Site Reliability Engineer." The 40-hour-per-week role will require collaboration with peers in both the U.S. and Europe, in what Apple has identified as a "follow-the-sun team."
Apple Pay debuted in the U.S. in October, and currently the NFC-based contactless payment service remains exclusive to America. But a series of new hires suggest that Apple could be gearing up for a quick global expansion of the fledgling service.
In addition to the Shanghai-based engineer position, another Apple Pay job listing was spotted this week for a London-based intern. That advertisement disclosed Apple's plans to also launch Apple Pay across Europe, the Middle East, India, and Africa.
The Shanghai job will focus not only on the "front line customer experience," as Apple calls it, but also back-end integration of systems with network and banking partners.
"As a member of the Apple Pay SRE team, you're expected to not just find the issues, but to write code and fix them," the position description reads. "You'll be in all phases and layers of the application, and you'll have a direct impact on the experience of millions of customers."
The job requires candidates with a minimum of five years hands-on engineering in Java or another object oriented language, as well as five years with relational databases and no-SQL. Candidates must have a Bachelor of Science degree in computer science or equivalent industry experience.
Though it is gearing up behind the scenes for an international debut of its mobile payments system, Apple has not given a timeframe for when and where Apple Pay could launch outside of the U.S. Much of the attention has focused on China, where Alibaba Chief Executive Jack Ma has been pushing for a partnership between Apple Pay and his company's AliPay service.
Because Apple Pay relies on established near-field communication technology, users have found that they can already use the capability at some NFC terminals internationally. However, users have found that the tap-to-pay functionality found in the iPhone 6 and iPhone 6 Plus is only operational if the device is set up properly with American credit cards.
But the fact that Apple Pay is already compatible with global systems highlights the fact that the international roll-out of Apple's mobile payments service is not hampered by technology or point-of-sale systems. Rather. Apple must forge agreements with banks and credit card issuers to ensure compatibility around the world.