August iPhone-connected lock unveils new remote access add-on, private API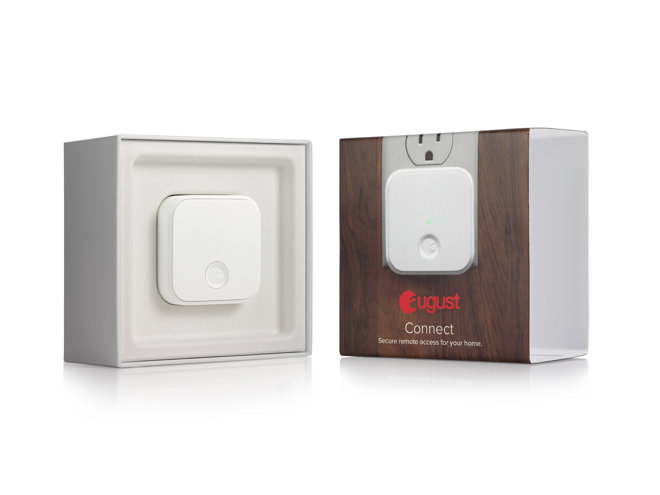 AppleInsider may earn an affiliate commission on purchases made through links on our site.
Owners of the Yves Behar-designed August Smart Lock now have the option to control the device from their iPhone even when they're out of the house thanks to the new August Connect accessory announced by the company at this week's Consumer Electronics Show.
Roughly the size of Apple's iPad power adapter, August Connect plugs into a power outlet and acts as a bridge between the smart lock and consumers' home Wi-Fi network. Users will be able to check the status of the lock, receive notifications when people enter or exit through a smart lock-equipped door, and remotely "buzz in" visitors like dog walkers or maintenance personnel.
"With August Connect, August is expanding the range of functionality for our users, delivering new experiences around secure, intelligent access to the home," August CEO Jason Johnson said in a release. "While the existing Bluetooth connectivity in the August Smart Lock allows it to be a truly offline, independent device, August Connect enhances that core offering with new benefits such as real time and WiFi Internet connectivity."
August Connect will not require a subscription fee of any kind. The device is currently available for pre-order for $49.99, with shipping expected to commence next month.
The company also announced the release of a private API that will allow some hardware partners — Â such as Logitech and SmartThings — Â to integrate August into other home automation systems. One of August's API launch partners is Google subsidiary Nest, which will allow Nest's smart thermostat to switch between Home and Away modes based on the lock's status.