First look: Fitbit Charge HR fitness band with real-time heart rate sensor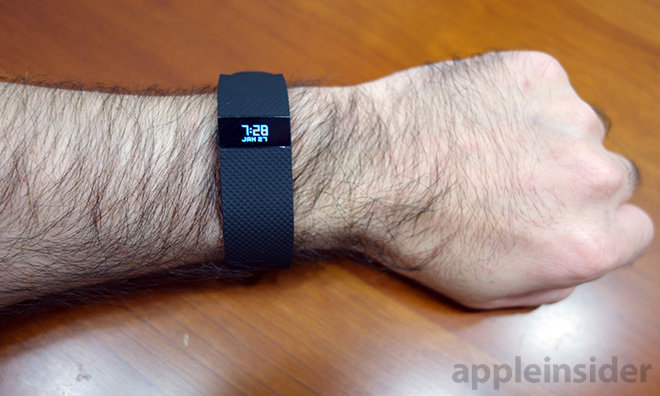 AppleInsider is supported by its audience and may earn commission as an Amazon Associate and affiliate partner on qualifying purchases. These affiliate partnerships do not influence our editorial content.
Fitbit's new Charge HR fitness band puts an emphasis on wearability with a slim and light form factor, but maintains a wealth of health tracking features including a real-time heart rate sensor and onboard display.
Part of the company's 2015 product lineup, Charge HR builds on last year's Flex fitness band with a bright blue OLED display, advanced sensor package with altimeter for counting stairs climbed and optical heart rate monitor dubbed "PurePulse."
Compared to older Fitbit models, the most prominent addition is a small but crisp OLED display, which lets users keep track of steps taken, resting heart rate, calories burned and even incoming calls. Pressing the multifunction button seated just left of the display turns it on, while multiple presses cycle through menu options configurable via the Fitbit iOS app or Web tool.
Unlike other devices in Fitbit's stable, Charge HR comes with a proper buckle strap made of flexible elastomer for a comfortable, yet secure fit. Not only does this design allow for a more customized fit, but it keeps the optical heart rate sensor in constant contact with your skin for accurate readings.
So far, the device has been able to consistently find and monitor our pulse, a task made difficult by a forest of thick arm hair. Other optical systems have failed in the past and electrode-based sensors are particularly ill-suited for our specific needs. The Charge HR's ability to read through the "noise" is a testament to its design.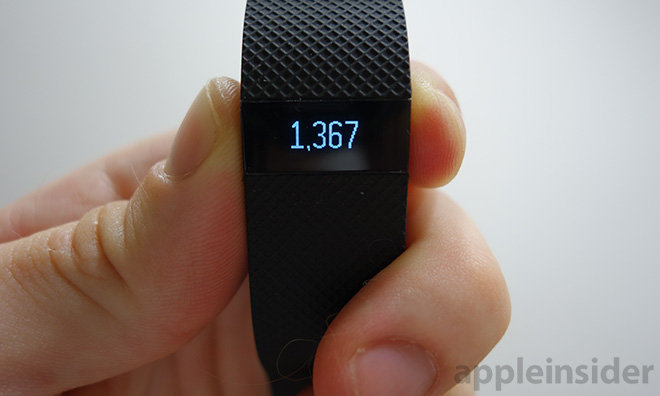 With Charge HR's real-time heart monitoring capability, users can check if they're in fat burn, cardio or peak zones when exercising (taken in continuous one-second intervals) as denoted by three special heart icons displayed next to the pulse rate readout. Alternatively, the device takes readings at five-second intervals throughout the day and plots results on a line graph for later perusal. Personalized zones can be tweaked via the iOS app and uploaded to Charge HR.
Sleep tracking is moving closer to becoming a standard feature for fitness trackers and Charge HR is no exception. Not much has changed from models like the Flex, but Fitbit built in new algorithms that automatically determine when a user falls asleep, supposedly delivering more accurate data for sleep trend computation. Vibration alarms can also be set through the iOS app.
Fitbit puts battery life at around five days of normal use with two-hour charge times, but real world results could be less depending on how often you check your heart rate, activate the display or sync the device over Bluetooth 4.0. Charging is accomplished via a specialized plug located on the unit's back, an open design which means Charge HR is only water resistant and can't be worn while swimming.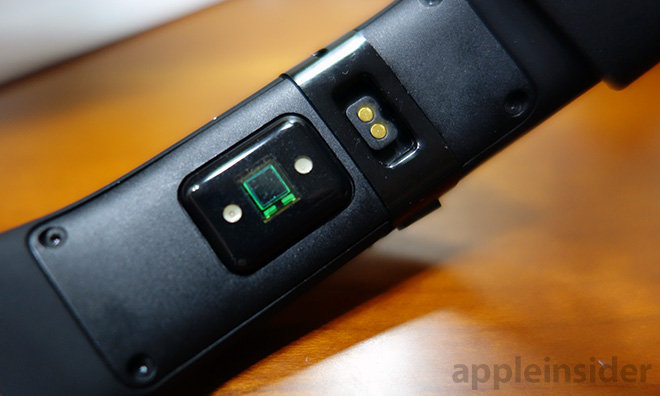 Finally, users who connect pair Charge HR to an iPhone can see incoming call notifications displayed on their wrist, but functionality is limited. The device vibrates when a call comes in, but users can't dismiss or send the call to voicemail with a click of the button.
Charge HR comes in at $149.95, while a slightly thinner version called Charge ditches heart rate monitoring capabilities and costs $20 less.
AppleInsider will offer a more thorough assessment of Charge HR once we've put it through the paces.