Morgan Stanley leads 20 new bank and credit union additions for Apple Pay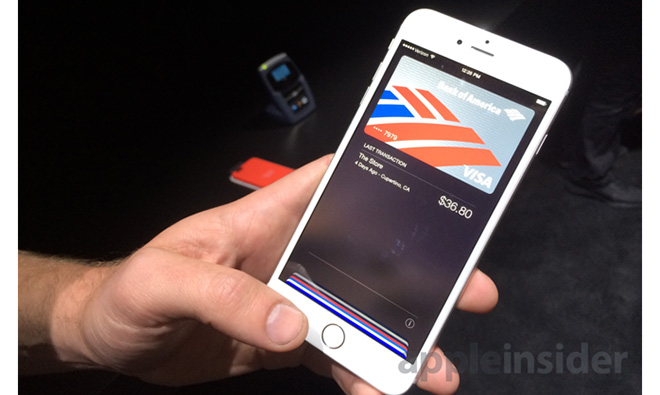 Apple continues to expand the reach of its popular mobile payment system, with the Cupertino company rolling out support for cards from nearly two dozen additional financial institutions — including major investment bank Morgan Stanley — on Wednesday.
The addition of Morgan Stanley may seem odd, given that the firm offers no retail banking services, but that is not the case. Investment banks like Morgan Stanley often offer exclusive credit cards to customers who use the bank's wealth management services.
One famous example is JPMorgan Chase's Palladium card — made from a combination of gold and palladium thought to cost around $1,000 per card — which is believed to require prospective cardholders to invest more than $20 million before obtaining one.
Morgan Stanley has two such arrangements with American Express, including a customized version of American Express's popular Platinum card. Merrill Lynch, a Morgan Stanley competitor, was one of Apple Pay's earliest adopters.
Also coming on board are Affinity Federal Credit Union, Cabela's Club, Central Bank, Credit Union of Southern California, Farmers & Merchants Bank of Long Beach, First National Bank of Omaha, First Sentry Bank, FirstBank, Grow Financial Federal Credit Union, Ideal Credit Union, Redwood Credit Union, State Department Federal Credit Union, Teachers Credit Union, Technology Credit Union, The Northern Trust Company, The Independent BankersBank, United Federal Credit Union, and Utah First Federal Credit Union.
All told, Apple has now added support for nearly 100 of the more than 700 banks and credit unions that have signed up to integrate Apple Pay.