Rumor: Unique display to showcase Apple Watch at high-end Paris department store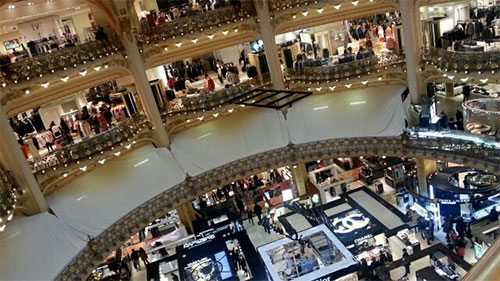 AppleInsider may earn an affiliate commission on purchases made through links on our site.
In yet another sign of how Apple may market its upcoming wearable device to the high-end fashion market, the Apple Watch is rumored to be featured in a display inside Paris's Galeries Lafayette.
The high-end department store currently has an area for a stand covered in white, which Mac4Ever claims is where Apple is building a display for the forthcoming Apple Watch. Construction is said to have begun earlier this month and will be completed in time for the wrist-worn device's April launch.
According to the report, Apple is planning to set up similar displays at other high-end shopping areas, including spots along Avenue des Champs-Elysees. It was also said that Apple retail chief Angela Ahrendts is personally overseeing the project.
More details on the site were also posted by FashionMag, who noted that the space on the first floor was previously a food court area and some small shops.
Apple is expected to rethink some of its retail strategy for the forthcoming launch of the Apple Watch. For example, major physical changes are said to be coming to the company's retail outlets, thanks to a collaboration between Ahrendts and Apple's chief designer Jony Ive.
The company has also taken on new promotion tactics, going as far as to hold events with partners to showcase the Apple Watch, such as a Fashion Week display done with Colette in Paris last week.