Apple's 'iPad Pro' might include USB expansion ports, new fast charging tech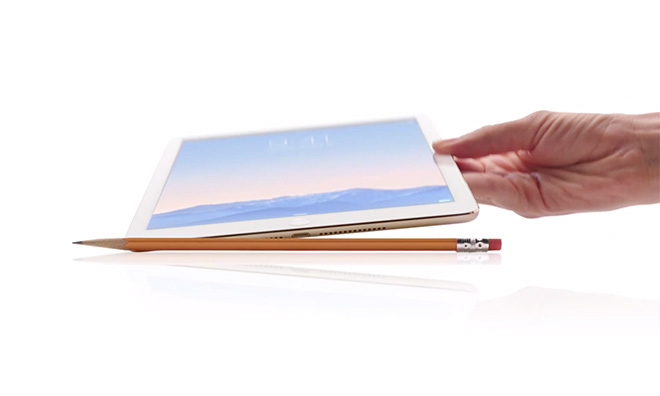 Following reports that claimed Apple was forced to push back its production timeline for a larger 12.9-inch iPad, new rumors suggest the company is looking to incorporate USB 3.0 connectivity and possibly ports for keyboards and a mouse.
Citing sources familiar with Apple's plans, The Wall Street Journal reports production of a rumored 12.9-inch iPad has indeed been previously thought.
The publication claims Apple has not yet decided on a final design and is still working on new iterations and enterprise features, including USB ports and incorporation of the faster USB 3.0 protocol. While a move to USB 3.0 sounds reasonable, the assertion that Apple could make a last-minute decision to tack on external expansion ports is highly suspect. Since the iPad platform debuted in 2010, Apple has relied on one connector for charging, syncing and data transfer; first the 30-pin adapter and now Lightning, both proprietary designs.
"Apple has continued to rework some of the features of the larger iPad. It is now considering the faster technology for data synchronization between the larger iPad and other computing devices," the source said. "Apple is also working on technology to speed up the iPad charging time, but it remains uncertain if the final design will have these new features."
The person also mentioned "iPad Pro" may include options to connect a keyboard and mouse, though it is unclear if they were referring to additional Lightning connector inputs, a breakout cable or separate USB ports.
Past reports touched on the potential a larger iPad would have in enterprise. Earlier this year, noted analyst Ming-Chi Kuo speculated that Apple could sell a simple tablet stylus to go along with the large-screened device, enabling handwritten notes and precise onscreen interactions.
Not much is known about the rumored tablet, but previous reports suggest Apple is planning to incorporate extra speakers into the larger iPad chassis, affording stereo sound while using the device in landscape mode.