Apple's Eddy Cue explains Apple Pay on Apple Watch at NBA game [u]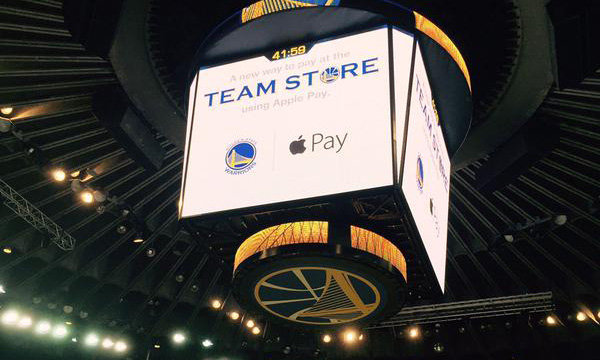 Oracle Arena, home of the Golden State Warriors, became the second NBA venue to adopt Apple Pay on Friday, and Apple SVP of Internet Software and Services Eddy Cue was on hand to explain how the service will work with Apple Watch.
Although Cue sported a stainless steel Apple Watch at the game in Oakland, Calif., he used an iPhone 6 to make purchases from the Warriors' team shop and only discussed the wearable's payment capabilities, reports Mashable. Cue also announced the arena's new Apple Pay compatibility on Twitter.
Describing the purchasing process, Cue said that users only need to perform a double press of Apple Watch's side button to conduct a transaction. As long as a paired iPhone is in range, Touch ID authentication is unnecessary, meaning users can leave the handset in their pocket. Users will also have the option to set a passcode lock, if they so choose.
"You don't have to authenticate on the phone," Cue said. "Your watch has to be unlocked and your phone can unlock your watch and so it knows, if I took my watch off and gave it to you it would know. If I wanted to pay right now I could just pay with the watch and not have to take the phone out at all or unlock it."
This convenience sets Apple Pay, and by extension Apple Watch, apart from existing NFC-based mobile payments systems and can help encourage adoption among new users, Cue said.
"Anything that makes things more convenient and easy to use helps with adoption," he said. "When the quarter's over and you want a drink, you want to get it as fast as possible. And now we're going to make it even easier because we will be able to pay with the watch."
In addition, the Apple exec confirmed Apple Watch will enable owners of iPhone 5, 5s and 5c handsets, which do not have NFC chips, to make touchless Apple Pay transactions.
Oracle Arena was also one of the first professional sports venues in the U.S. to install iBeacon technology, which was initially used by the team to advertise ticket upgrades to fans sitting in cheap seats.
In November, Cue pulled a similar PR stunt with local California news station KTLA. The Apple exec went on a "holiday shopping spree" at Apple Pay partner stores, including Panera Bread and the Apple Store.
Update: CNET, which was also on hand for Cue's demonstration, reports that the Warriors are exploring options to add Apple Pay to concession stands. The system pay also one day allow fans to order and pay for products in the stands.