Apple exec Eddy Cue goes on 'holiday shopping spree' to showcase Apple Pay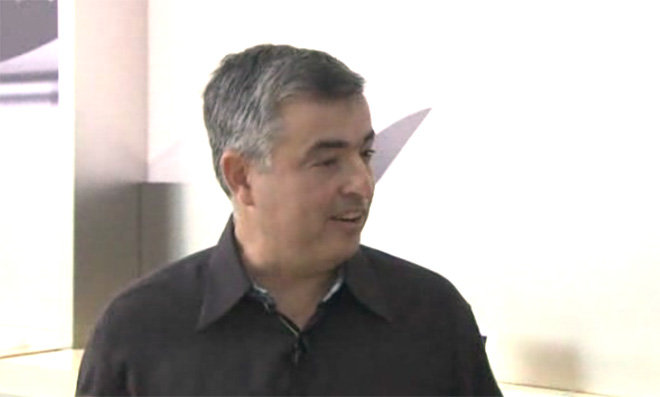 In a segment that aired Monday night on local Los Angeles, Calif., news station KTLA, Apple SVP of Internet Software and Services Eddy Cue went on a "shopping spree" to show off Apple Pay at a number of retailers, including the Apple Store.
Rich DeMuro of KTLA's The Tech Report met with Cue to do some shopping in Santa Monica. From buying a snack at Panera Bread to an iPad from the Apple Store, the duo used nothing but Apple Pay and supporting apps.
For Panera, Cue opened the restaurant chain's app to preorder a meal for two, including an egg white "sangwich" for himself (Cue is apparently hip to modern gastronomic lingo). The pair walked into the store where their order was ready for pickup at the tap of Cue's gold iPhone 6 Plus.
Following breakfast, they headed to Bloomingdale's — one of the few department store chains to accept Apple Pay at launch — to buy sunglasses. When later asked why the purchase required a signature, Cue said purchases over a certain amount necessitate the extra step to prevent fraud. The same mechanism is true of many credit cards, on which Apple Pay is based.
Next stop Disney Store. DeMuro got a head start on holiday shopping and picked up two dolls from the movie "Frozen." Here, no signature was needed as the price was below the safety threshold.
Finally, Cue made a pit stop at the Apple Store, where he discussed Apple Pay's online capabilities. Since the new iPad Air 2 and iPad mini 3 lack NFC support, they are unable to make in-store purchases, but can complete in-app transactions with Touch ID.
Since rolling out as part of iOS 8.1, Apple Pay has seen relatively strong adoption rates compared to previous touchless payment systems introduced by Google and others. In October, Apple CEO Tim Cook announced that more than one million users had activated cards through Apple Pay in its first 72 hours of service, while a more recent report noted major retailers as seeing a spike in mobile payment transactions over the past month.