Apple's all-new MacBook draws taunts from Asus, Dell, Lenovo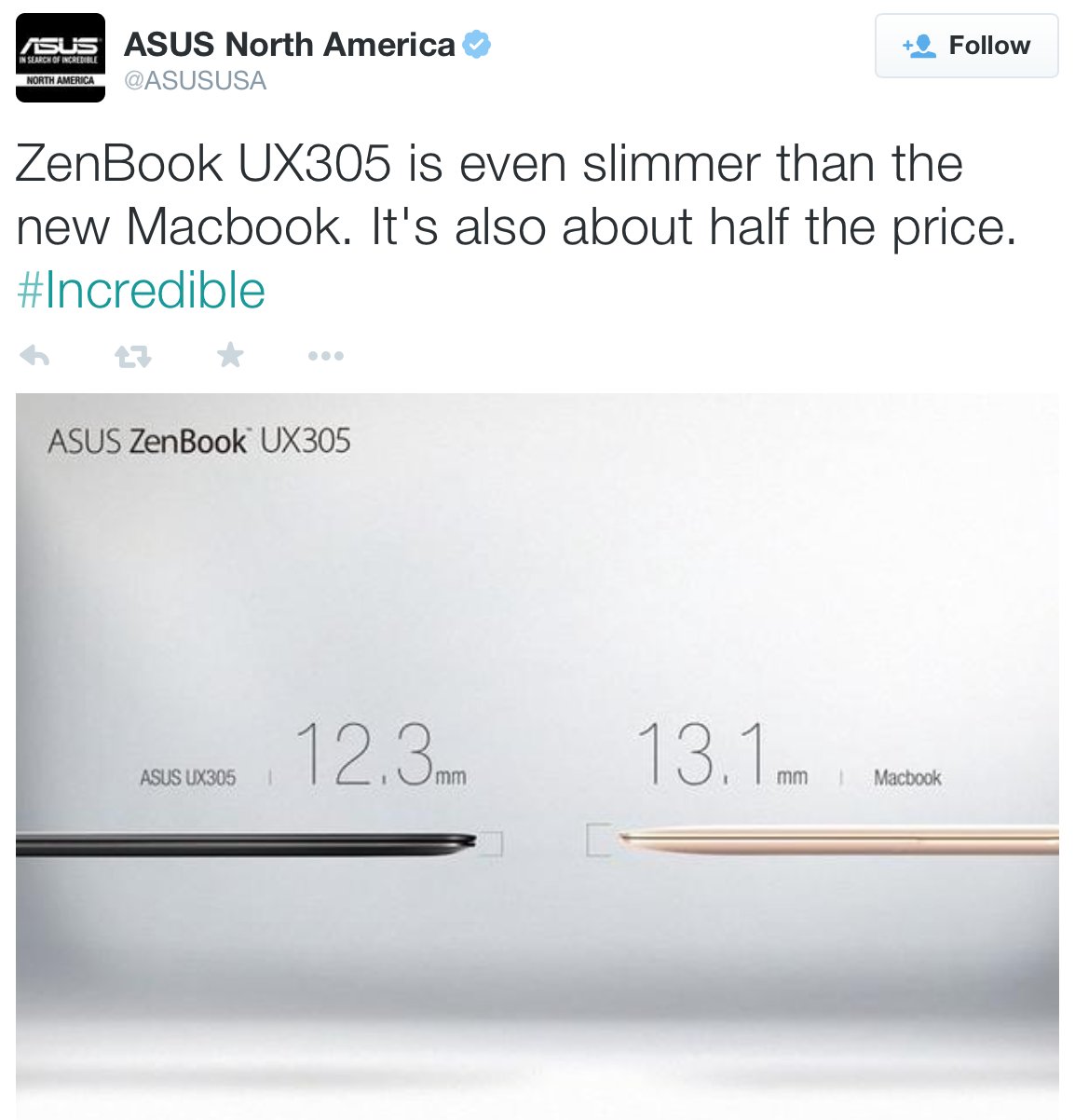 AppleInsider is supported by its audience and may earn commission as an Amazon Associate and affiliate partner on qualifying purchases. These affiliate partnerships do not influence our editorial content.
While many in the media are enamored with Apple's latest thin-and-light notebook, competing PC makers haven't been so kind, taking to Twitter to ridicule Apple's offering for not being the slimmest, cheapest, or highest-resolution on the market.
Asus compared the new MacBook to its ZenBook UX305, saying the UX305 is "is even slimmer than the new Macbook [sic]," adding that "it's also about half the price." Asus's offering does best Apple's on svelteness by just under 1 millimeter, though it also weighs over half a pound more.
Dell mocked the MacBook's 12-inch Retina display, comparing it to the company's XPS 13. "Our #DellXPS 13's virtually borderless infinity display has 5.7M pixels - that's 2M more than a 12" retina display," Dell said.
The XPS 13 is also 2 millimeters thicker and weighs in at 2.8 pounds, compared to the MacBook's 2.03 pounds, factors unaddressed by Dell.
Lenovo was the most boastful, calling the MacBook "#SoLastYear." "WE SEE YOUR [sic] thin laptop (#SoLastYear) & raise you 3 modes, 2 USB ports & a higher-resolution touch display," the company wrote.
Lenovo's Yoga 3 Pro, a convertible laptop-tablet running Windows 8.1, starts at $1,499 — Â "instant savings" and a coupon bring that price down to $1,199 when purchased through Lenovo.com. Like the others, it's also notably heavier than the MacBook.
The response largely mirrors PC makers' reactions to the original MacBook Air in 2008. Nobody really knew what to make of it at the time, and it took three years and Intel's $300 million Ultrabook program for the rest of the industry to start catching up.
It remains to be seen whether a similar trail will follow the new MacBook, which ships with a "Force Touch" trackpad, a single USB-C port, a headphone jack, and a 12-inch Retina display in its thin chassis. For its part, Apple clearly believes it has once again defined the way forward — Â as design chief Jony Ive said during the MacBook's introduction, the new device "is the result of a collective obsession to simplify its essential components to create the most efficient design possible."