Apple offers rare look inside secret Apple Watch health and fitness testing labs [u]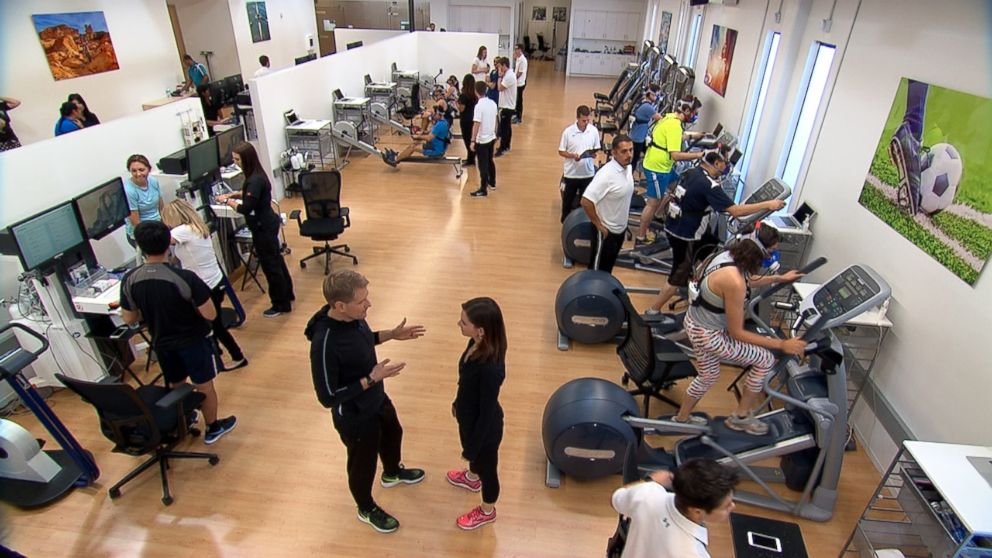 In a new television segment aired on Friday, Apple offered an inside look at the previously secret health and fitness testing labs for the Apple Watch, hidden inside of a rather plain looking warehouse.
In a segment on Good Morning America, ABCNews revealed that a number of Apple workers, ranging from developers and engineers to managers, were participating in tests for almost two years without knowing the purpose behind them until the Watch was unveiled. Subjects were asked to wear masks and other expensive sensor equipment while participating in activities like running and yoga.
The subjects would also wear Apple Watches, according to Apple's senior VP of Operations, Jeff Williams, but the prototype hardware would be covered up.
The company's director of Fitness and Health technologies, Jay Blahnik, said that in order to test the Watch's environmental resistance, the company brought the device to places as distant as Alaska and Dubai. But special "climate chambers" were installed in the labs as well, allowing Apple to simulate activities in extreme heat and cold.
On the scale of the project, Blahnik said that the company has amassed "what may be one of the world's largest pieces of data on fitness," and that the company's fitness efforts are just beginning. "We think there's a lot to this fitness thing...the impact on health could be profound."
Friday's report is a rare instance of Apple allowing the media inside its secret labs, where it goes to great efforts to conceal future products it is working on. In 2010, the company took media on tours of its iPhone test labs to demonstrate the efforts it goes to in order to ensure strong signal quality on its handsets.
Although the first-generation Apple Watch only has motion and heartrate sensors, some past reports have hinted that Apple was experimenting with collecting much more data, such as glucose levels. The company is believed to have abandoned less conventional sensors when they proved impractical, but it could conceivably expand tracking efforts in later devices.
Update: ABC's Nightline aired an extended version of the video, revealing that test subjects are Apple employees from various departments, including software engineering. The company has conducted 10,000 test sessions and accumulated 18,000 hours of data on a number of workouts, including outside activities like bicycling.