Apple Watch gets 2-page spread in Fitness First Australia magazine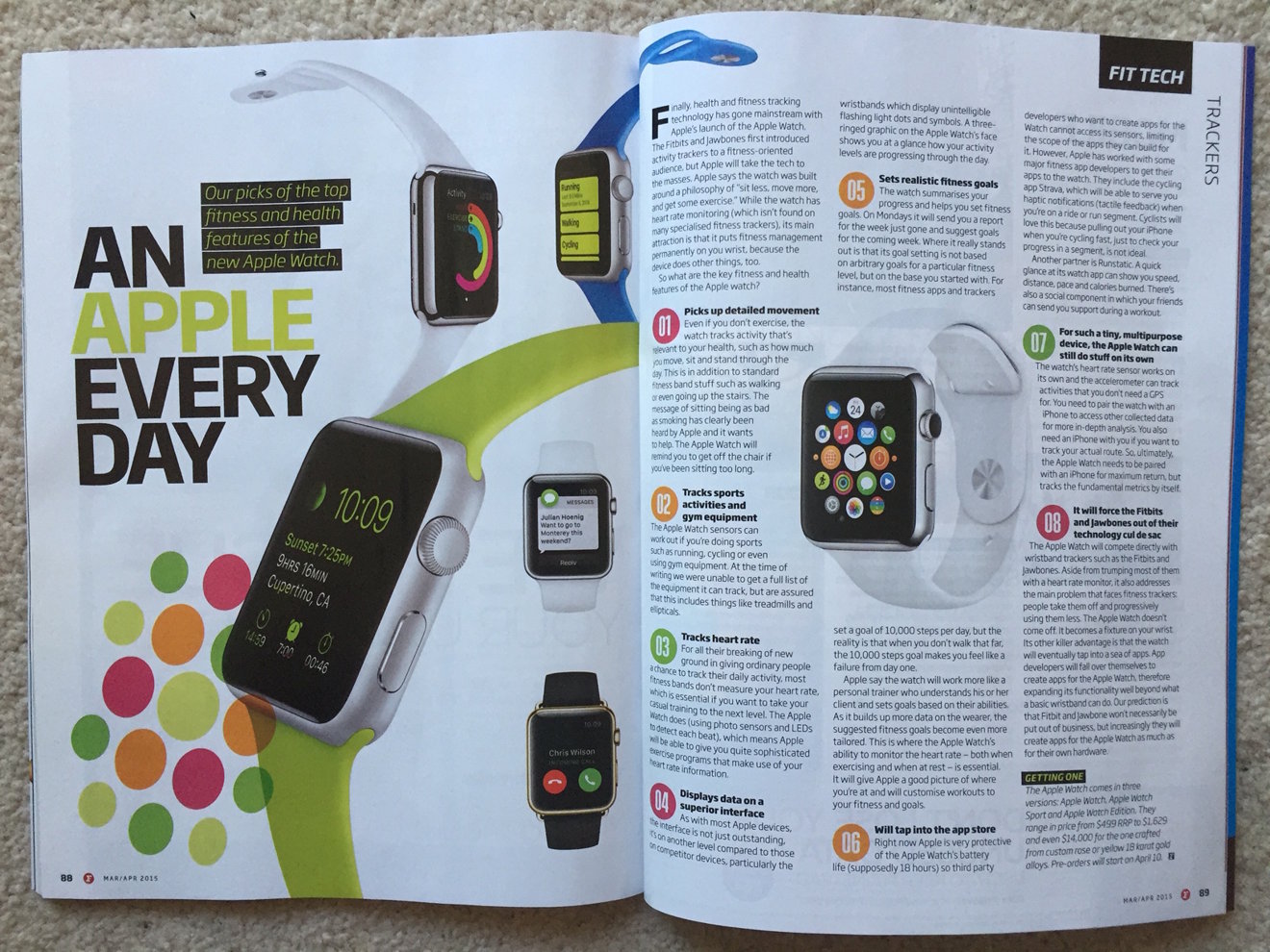 Days after its Down Under debut, the Apple Watch has been featured in Australian exercise magazine Fitness First with a two-page spread that extolls the new wearable's virtues for fitness aficionados.
Under the banner of "an Apple every day," Fitness First runs down what are in their estimation the Watch's eight best health and fitness features. Leading off the list is the Watch's ability to discern the wearer's detailed movements and remind them to get up if they've been sitting for too long, followed by its workout tracking abilities.
Images of the article were provided by AppleInsider reader Andrew.
The magazine also calls out the Watch's heart rate monitor, its data visualizations, goal-setting, App-based extensibility, and ability to work without a tethered iPhone. Apple also receives a bit of praise for spurring innovation among fitness-focused competitors like Fitbit and Jawbone.
Fitness has been a tentpole for Apple's Watch marketing, but it has taken a marked backseat to fashion. The Watch has been given a turn in some of the world's foremost fashion magazines — including both American Vogue and Vogue Paris — but has seen little play in comparable health-focused publications.
Apple did partner with model and activist Christy Turlington Burns, who is keeping a running diary of her preparations for the London Marathon using the Watch. Last week, the company also revealed its formerly-secret health and fitness labs, where director of Fitness and Health technologies Jay Blahnik described the process of amassing "what may be one of the world's largest pieces of data on fitness."
"We think there's a lot to this fitness thing...the impact on health could be profound," Blahnik added.