Google unveils new $149 Chromebooks, Asus-made Chromebit stick computer

AppleInsider may earn an affiliate commission on purchases made through links on our site.
Devices running Google's budding Chrome OS cloud-based operating system continue to fall in price, as the company announced two new laptop models from Chinese manufacturers Haier and Hisense, alongside a convertible Chromebook and thumb drive-sized "Chromebit" from Asus.
Haier's Chromebook 11 ships with an 11.6-inch display, powered by a 1.8 gigahertz Rockchip RK3288 processor. Inside the 3.3-pound package, buyers will find 2 gigabytes of RAM, 16 gigabytes of eMMC flash storage, and a battery that the company says will power the Chromebook 11 for up to 10 hours.
Competitor Hisense's own Chromebook is nearly identical, specification-for-specification, though its Rockchip processor is clocked slightly higher. The 2.5 gigahertz clock speed drops battery life down to just 8.5 hours.
Both machines are available for preorder today, for $149 each.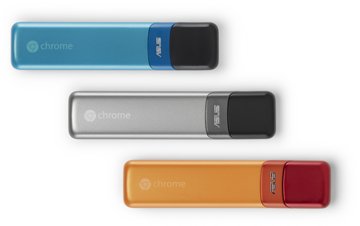 Taiwanese manufacturer Asus joined the party with the Chromebook Flip, an all-metal convertible laptop and tablet. Technical specifications are not yet available, but the Flip is expected to launch later this spring for $249.
Asus also announced the Chromebit, a minuscule computer-on-a-stick with an HDMI port on one end and a USB port on the other. Following the recent trend of devices-on-a-stick, the Chromebit will turn any HDMI-equipped monitor into a Chrome OS-based computer.
Technical specifications for the Chromebit are likewise unavailable, but it is expected to ship this summer for "less than $100."