Apple revamps Siri informational webpage with example interactions, fresh graphical style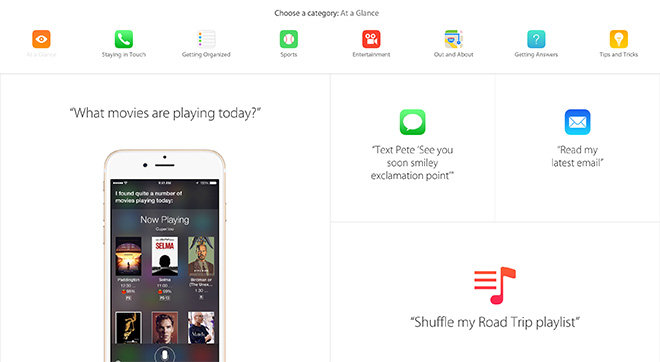 Alongside Wednesday's iOS 8.3 rollout with expanded international support for Siri, Apple launched a redesigned expository webpage that helps explain how users can interact with the virtual assistant.
As seen in the image above, Apple compiled a list of possible Siri interactions and tips, arranged by categories in grid style layout, to serve as an introduction to its iOS digital assistant.
Apple says you can "[t]alk to Siri as you would to a friend and it can help you get things done," referring to the system's capability of translating conversational language into commands. For example, users can ask Siri to send messages, create calendar events and pull in information from the Internet.
In addition to well-known interactions, Apple lists a few "bonuses" in the "Tips and Tricks" category, such as flipping a coin and rolling a pair of virtual dice. Sample questions are provided, for example, "What movies are playing today?" and "Are we there yet?," the latter of which returns an estimated time of arrival while navigating.
Apple lays everything out in an open visual style reminiscent of the Online Apple Store, with animated graphics hovering amid copious white space. Users can browse through a variety of sample interactions in categories including "At a glance," "Staying in touch," "Getting organized," "Sports," "Entertainment," "Out and about," "Getting answers" and "Tips and tricks."
As Apple's website is constantly evolving, often times as piecemeal section updates, Siri's relaunched webpage could be a sign of things to come for other products like CarPlay and Maps.
Earlier today, Apple expanded Siri capabilities to nine new countries including Brazil, Denmark, India, Netherlands, New Zealand, Russia, Sweden, Thailand and Turkey.