Apple's Safari claims 55% of US mobile browser usage, 10.5% desktop share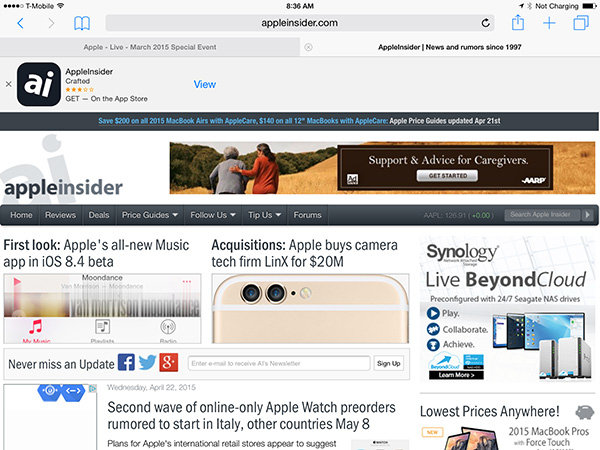 In March, 55 percent of U.S. mobile Web traffic stemmed from Apple's Safari, although the browser continued to lag behind in the desktop environment, analytics firm StatCounter said on Wednesday.
By comparison, Google's multi-platform Chrome accounted for 29.9 percent of mobile Web use, while generic Android traffic accounted for 9.5 percent. StatCounter tracks data for visits to more than 3 million websites.
Safari was also the mobile browser of choice in several other countries, such as Canada, Australia, France, the UK, Italy, Japan, Sweden, and Norway. Chrome held sway in a number of regions however, some prominent examples being Brazil, Germany, Mexico, Russia, and Spain. Much of Africa preferred Opera. The world's largest countries by population, India and China, favored UC Browser and Android, respectively.
Worldwide, Chrome led mobile traffic at 28.9 percent, though Safari was close behind at 27.6. Android was next closest at 18.1 percent.
Figures for U.S. desktop traffic showed Safari at just 10.5 percent. Chrome led with a 41.6 percent share, followed by Internet Explorer at 28.1 percent, and Firefox at 17.4 percent.
Chrome enjoyed even greater control of desktops worldwide, managing a 52.6 percent share. Internet Explorer came in a distant second with 19.7 percent, followed by Firefox at 18.6 percent. Safari ranked at just 5.4 percent, though ahead of Opera's 1.7.
StatCounter lastly drew attention to the search preferences of Safari users. In March, Google accounted for 83 percent of U.S. searches, and 87.9 percent worldwide. Equivalent Yahoo numbers were 11.5 and 8.3 percent, and Bing's portions were smaller still, only 4.7 and 2.5 percent. Figures for DuckDuckGo, the only other built-in search option for Apple's browser, were not broken out.