First look: Digital Crown on Apple Watch ushers in new era of UI control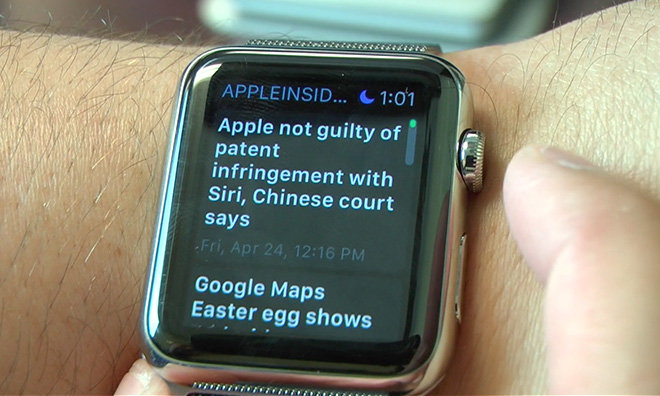 AppleInsider may earn an affiliate commission on purchases made through links on our site.
With Apple Watch, Apple was presented an opportunity to reimagine and improve upon the ways in which a user interacts with ultra-small format devices. It delivered in spades with Force Touch, haptic feedback, a custom UI and a keystone tactile technology called the Digital Crown.
Digital Crown takes its cues from traditional wristwatch design, but instead of a mechanical linkage of gears, Apple's version uses an electro-optical system to translate rotation into UI data. As seen in the video below, Apple's solution offers stepless operation for fluid control of a range of functions.
Instead of using multitouch gestures like iOS devices, Apple tapped Digital Crown for zooming, scrolling and general user interface navigation. This not only brings tactile feedback to the Watch experience, but affords users an unobstructed view of the small screen.
Since dial turns are recognized and processed with software, Apple was able to bake in dynamic scrolling speeds. The faster the crown spins, the faster Watch's UI scrolls on screen. The feature can be used to quickly navigate long lists or lengthy emails, but is sensitive enough for detailed work like zooming in a map.
In addition to rotation-based input, Digital Crown is a button that can be used to call up Siri or return to Watch's home screen view. Like scrolling, button functionality is intuitively based on user interaction. For example, pressing once invokes the home screen, two clicks calls up recently used apps and three clicks toggles accessibility options. A press-and-hold gesture activates Siri.