Apple hires new general contractor to finish Campus 2 interior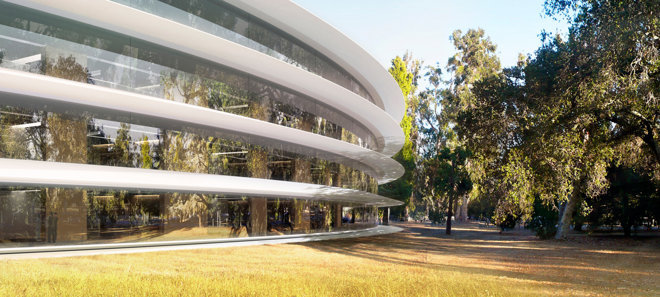 AppleInsider is supported by its audience and may earn commission as an Amazon Associate and affiliate partner on qualifying purchases. These affiliate partnerships do not influence our editorial content.
Apple is signing on a new general contractor to help finish Campus 2, the company's upcoming ring-shaped headquarters being constructed in Cupertino, Calif., according to a Monday report.
The Silicon Valley Business Journal cited sources identifying the contractor as Rudolph & Sletten, a firm with a track record in Silicon Valley. The company will reportedly work on the new headquarters' interior, joining the existing major contractors on the project, DPR Construction and Skanska USA. The latter two firms are expected to stay focused on the core and shell of the building.
The Journal said it was uncertain why Rudolph & Sletten was being hired, or how the change might impact DPR and Skanska. It's also unknown whether or not Apple always intended to bring on an extra contractor for interior work.
Neither Apple nor any of the contractors have been willing to officially comment on the matter, but Rudolph & Sletten reportedly added nine new jobs to its website this week for a "high profile project" in Cupertino.
Work on the campus is scheduled to complete by the end of 2016, but it's possible that the new contractor could be a harbinger of delays. That would push the project beyond its current $5 billion price tag.
Once finished the campus should be able to handle 12,000 workers in its main building, and still more in a separate research and development facility. Apple will use entirely renewable power, much of it sourced from roof-mounted solar panels.