Apple releases Safari 8.0.6, 7.1.6, and 6.2.6 to fix WebKit vulnerabilities
By Roger Fingas
Wednesday, May 06, 2015, 02:35 pm PT (05:35 pm ET)
Apple on Wednesday released Safari 8.0.6, a minor update of the Mac browser, concentrating primarily on fixing security holes discovered in the software.




The v8.0.6 release requires OS X Yosemite. Apple has simultaneously released Safari 7.1.6 for OS X Mavericks, and v6.2.6 for Mountain Lion, both of which share the same focus.

Release notes for the updates indicate that the vulnerabilities are all found in WebKit, the rendering engine underlying Safari. One would allow a malicious website to cause a crash or hijack a system, while another would let a site access filesystem contents. A third would let a site spoof the user interface.

Each of the Safari updates can be downloaded via the Updates tab at the Mac App Store.
Today's Headlines
No news headlines yet today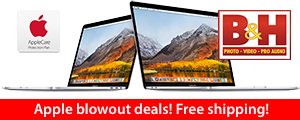 2018 13" Touch Bars
Price
Save
2.3GHz/8GB/256GB (Gray)
$1,649.99+
$150
2.3GHz/8GB/512GB (Silver)
$1,849.00+
$150
2.3GHz/16GB/256GB (Gray)
$1,949.00+
$50
2.7GHz/16GB/512GB
$2,449.00+
$50
2.7GHz/16GB/1TB
$2,849.00+
$50
2018 15" MacBook Pros
Price
Save
2.2GHz/16/256GB/555X
$2,099.00+
$300
2.6GHz/16/512GB/560X
$2,399.00+
$400
2.9GHz/16/1TB/560X
$3,199.00+
$300
2.9GHz/32/2TB/560X (Gray)
$3,999.00+
$700
tr class="model">
2.9GHz/32/4TB/560X (Gray)
$5,999.00+
$700
Click here for dozens more configurations
+ Free shipping within the contiguous U.S.
Lowest Prices Anywhere!

13" MacBook Pros
Price
You Save
3.1GHz/8GB/256GB Gray
$1,679.00
$120.00
3.1GHz/8GB/256GB Silver
$1,704.00*
$95.00
3.1GHz/8GB/512GB Gray
$1,849.00*
$150.00
3.1GHz/16/512GB Gray
$2,099.00
$100.00
15" MacBook Pro
Price
You Save
2.8GHz/16/256/555 Silver
$2,199.00*
$200.00
2.8GHz/16/256/560 Gray
$2,299.00
$200.00
2.9GHz/16/512/560 Gray
$2,599.00
$200.00
2.9GHz/16/1TB/560 Gray
$2,999.00
$200.00
3.1GHz/16/512/560 Gray
$2,799.00
$200.00
3.1GHz/16/2TB/560 Gray
$3,899.00
$300.00

*

price with Promo Code:

APINSIDER

prices.appleinsider.com for more configurations