Apple's Cook references Steve Jobs, morals in commencement address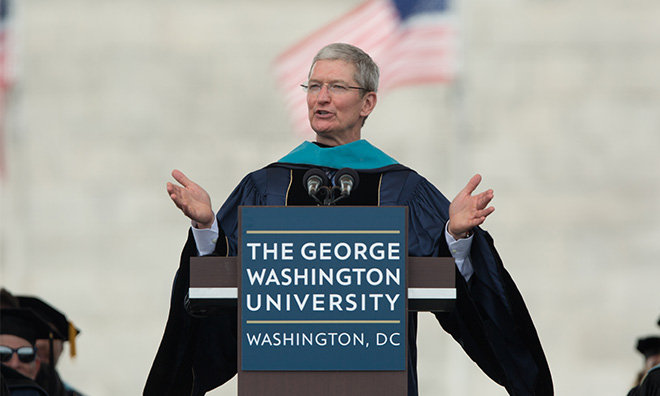 During his commencement address at George Washington University on Sunday, Apple CEO Tim Cook told graduates to follow their own North Star, saying there need not be a choice between "doing good and doing well."
Throughout his 20-minute speech Cook referenced the American civil rights movement, a universal quest for equality, chasing dreams while at the same time contributing to the greater good, and of course, Apple.
With impassioned rhetoric, Cook implored graduates to follow their metaphorical North Star as he did upon joining Apple. Before taking up at Cupertino, Cook said he was adrift. He compartmentalized his personal and business lives thinking the two were incompatible.
Meeting Steve Jobs upended his assumptions, however. Jobs told him that through hard work with an eye on improving not only your life, but the lives of others, Apple could help change the world. Cook, a staunch supporter of civil rights, explained the bearings of his moral compass were highly influenced by a childhood spent in Alabama during the 1970s, a tumultuous period for the South.
Relating back to the graduating class, Cook said it is a false choice to pit financial success against one's moral obligations. The challenge, he said, is "to find a job that pays the rent, puts food on the table and lets you do what is right, and good, and just."
Along with anecdotes from his early life, Cook tossed in Apple's dedication to the environment, education and workplace equality as examples of bringing personal convictions to the office.
"History rare yields to one person," Cook said, "but think and never forget what happens when it does. That can be you. That should be you. That must be you."
Cook wrapped up by taking a picture of the gathered graduates with his iPhone, saying it's "the best view in the world."