Apple starts advertising Watch as part of connected iOS, Mac ecosystem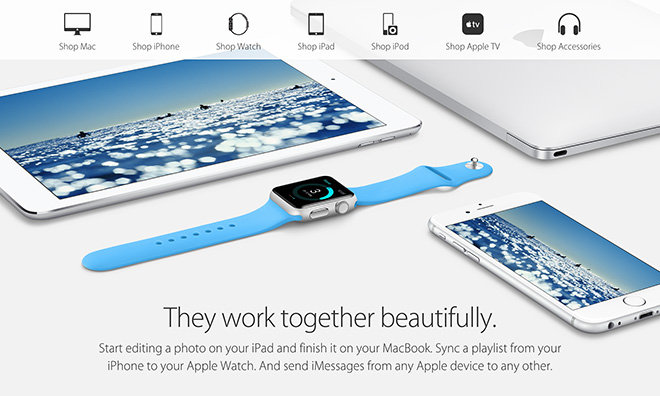 Apple updated its online storefront on Tuesday with fresh imagery and text touting so-called Continuity features that interconnect iOS, Mac and now Apple Watch devices.
As seen in the screenshot above, Apple is placing emphasis on software integration across its major platforms, highlighting inter-device operability between flagship iPhone, iPad, MacBook and Apple Watch products. Specifically, Apple Watch owners can transfer calls, messages, emails and more to a paired iPhone.
In what appears to be a nod to Apple Watch's unique blue fluoroelastomer Sport Band, the online store boasts a cool blue color scheme with iPhone 6 and iPad Air 2 screens displaying ocean themed backgrounds.
Apple also cleaned up the store's layout to match other Apple.com product pages. For example, instead of setting off iPhone, iPad and Mac into separate boxes, the site now features large device images that cascade from one product to the next against a stark white background. Onscreen text has been pared down to device names only and is executed in a thinner font compared to previous versions. The lone exception is Apple Watch, which uses a graphic done up Apple's San Francisco typeface.
Apple has touted Handoff as a core Apple Watch capability, but today's Online Apple Store update is one of the first instances Watch was included as an integral part of the company's portable device ecosystem.