Everything you need to know about Apple Music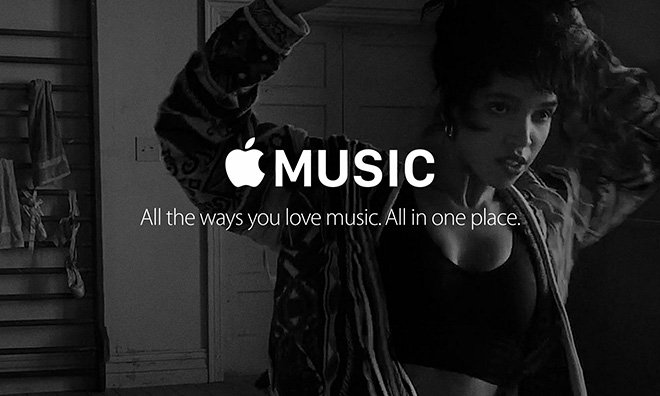 After months of rumor and speculation, Apple on Monday unveiled its first foray into paid music streaming with Apple Music. Featuring access to an extensive iTunes-based catalog, human-curated playlists, Beats 1 radio and Connect social networking for artists, the product promises to be one of Apple's biggest releases for 2015.
While working Apple Music builds have not yet been made public, Apple offered an extensive demonstration of what to expect from the Beats Music-infused subscription-based music service onstage at WWDC this week.
Apple breaks down Music into three pillars: streaming tracks, Beats 1 radio and Connect. Separately, each leg can't stand on its own, but together Apple hopes to offer a compelling option to industry giants like Spotify.
Aside from major features, human curation seems to be the hub on which everything is attached, from personal playlists to a live Internet radio station.
In its promotional material, Apple touts access to over 30 million songs, roughly equivalent to Spotify's catalog. With the substantial sway of iTunes, however, Apple might be able to offer content unavailable to competing services. The company is reportedly still in talks to bring on more record labels, but negotiations have been trying for both sides.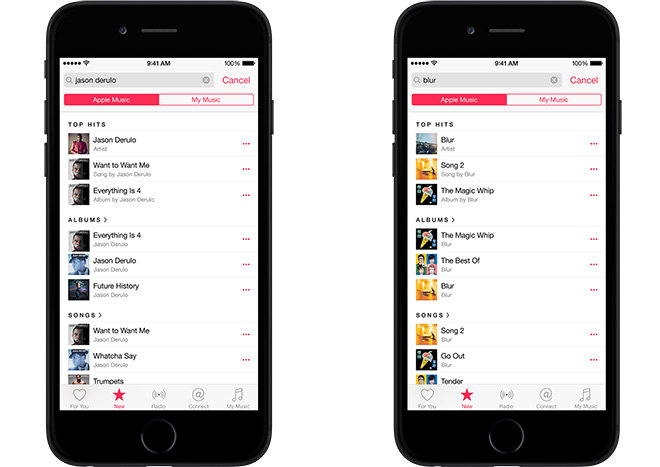 With iTunes at its heart, the My Music section combines songs from users' existing collections, including previously purchased iTunes tracks and ripped CDs, alongside offerings from the Apple Music library.
Playlist creation is supported, as are downloads from Apple Music's catalog. According to BuzzFeed News, Apple will allow paying members to download up to 100,000 songs for offline listening. Compared to other services, Apple Music offers a bit more flexibility over tracklists as users are able to rearrange song playback order on the fly.
Apple incorporated an intelligent search engine to parse through this massive library. For example, searches for artists, albums and tracks will return results from both My Music and Apple Music. An integrated discovery feature surfaces trending search terms from other Apple Music users.
Apple of course built in deep support for its Siri virtual assistant. For example, Siri accepts commands for playlist, song and genre playback, and is capable of processing and returning results for highly specific requests like "Play the top charting song of 1990" or "Play the best Aphex Twin song."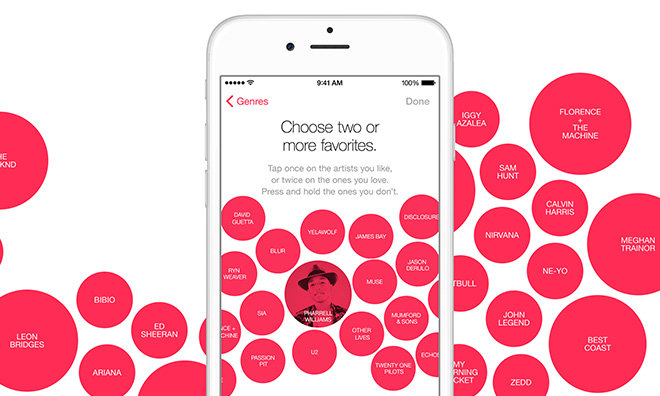 Music curation comes to the fore with "For You," a feature previewed onstage at WWDC that offers song suggestions based on user preferences. An amalgamation of human curation and an algorithm-based recommendation engine, For You is a take on a Beats Music song discovery feature.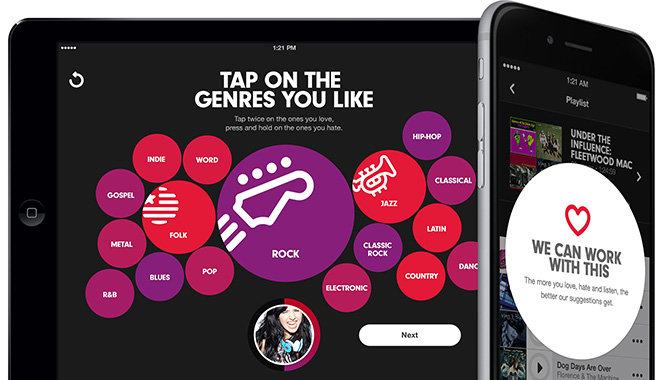 Using a bubble-like interface, listeners select liked and disliked genres and artists to build a personal taste database. The system then weighs preferences based on metadata assigned to artists — as well as data collected from iTunes purchases and users' personal libraries — and surfaces appropriate playlists curated by human experts. For You suggestions also include individual songs and albums that can be added to saved playlists.
Preset playlists are also available from a number of sources, including Rolling Stone, Pitchfork, The Grand Ole Opry and more. Apple Music editors also contribute their own playlist picks.
Apple Music continues to refine suggestions in the background by keeping track of songs a user plays, and how often they play them. Results also help inform what tracks show up in the "New Music" section.
Perhaps the most hyped Apple Music feature is Beats 1 radio, a live Internet station set to deliver exclusive content, interviews, guest presenters and more 24 hours a day from Los Angeles, New York and London. Apple went to great lengths to create Beats 1, poaching DJs and producers from around the world to make the project a reality.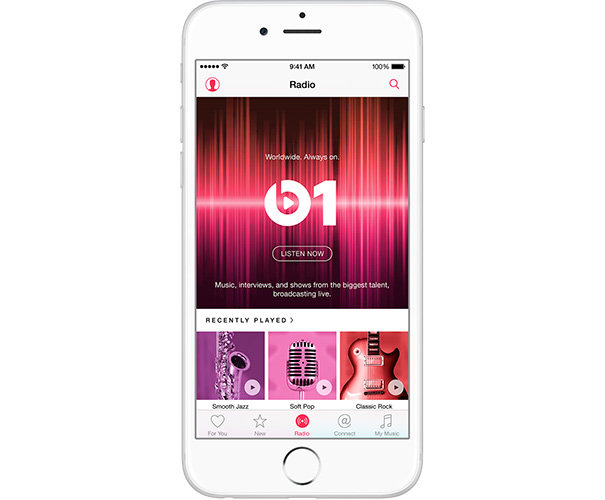 Beats 1 is helmed by former BBC Radio 1 DJ Zane Lowe, a so-called "tastemaker" who was a Grammy nominee for his work on Sam Smith's album In the Lonely Hour. Lowe, to be based out of a special Beats 1 radio headquarters in Los Angeles, will join DJs Ebro Darden in New York and Julie Adenuga in London to present live broadcasts to listeners in more than 100 countries.
Somewhat overshadowed by Beats 1 are "totally overhauled" genre-specific radio stations borrowed from iTunes Radio. Apple has not yet fleshed out radio streaming stipulations, but notes Apple Music subscribers will get unlimited song skips. It is unknown how Apple plans to handle song skipping for free tier users, but restrictions will likely be in line with iTunes Radio.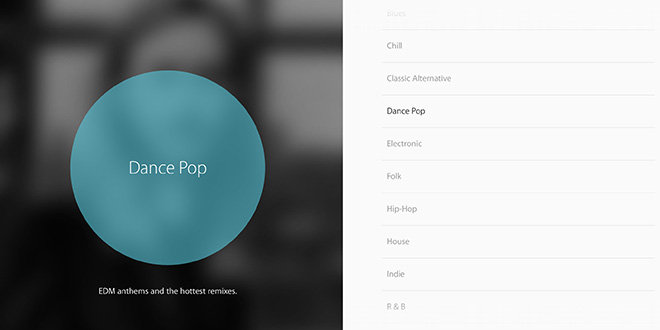 Apple Music radio stations don't pick songs based on algorithms and metadata, but instead rely on human curation for playlist refinements. The value added feature was one Beats Music's main selling points. Stations can also be seeded from a single song, a feature already available from the likes of Spotify.
Billed by Apple as a way to directly interact with artists, Connect can in many ways be likened to the erstwhile iTunes Ping service. Connect is a limited social network in which musicians post audio snippets, photos, video, lyrics and other content to "connect" with their audience. Fans can share, comment on and like posts — and musicians can respond in kind — but regular users don't have profile pages of their own.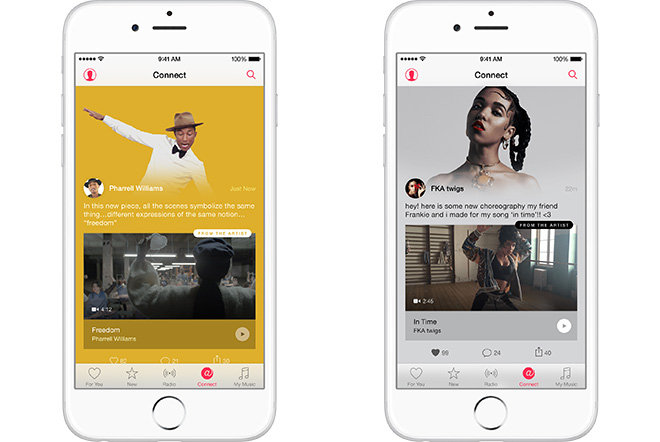 Connect is a place where musicians give their fans a closer look at their work, their inspirations, and their world. It's a main line into the heart of music — great stuff straight from the artists.
For free tier users, Connect acts as a promotional gateway to content, in some cases providing samples of recent releases, upcoming songs and videos accessible with a paid membership.
Apple Music goes live on June 30 alongside iOS 8.4 and new iTunes software for Macs and PCs. Monthly fees start at $9.99 for single users, while a $14.99 family plan grants access for up to six people. Android availability is coming this fall.